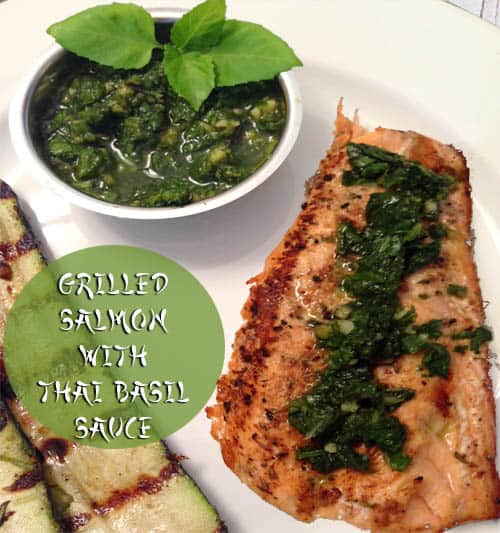 We love salmon in our house and fix it at least once a week. Salmon is one of those amazingly healthy foods that provide omega-3's in a low calorie, high protein form. It may also provide cartilage support, increase insulin effectiveness and control digestive inflammation. What's not to like?
During a recent trip to Atlanta, my brother-in-law brought us to Dekalb Farmer's Market and I fell in love at first sight. It seemed like they had miles of fresh vegetables, fruit and herbs and,even though we were far from home, we couldn't stop picking up some of it. We figured that, with a cooler and some ice, we could get it home in decent shape. So that is how I happened to have plenty of Thai basil on hand for this out-of-this-world sauce.
There are so many ways to fix salmon but I have to admit my favorite way to fix it is on the grill. Just change up the marinade or prepare a flavored sauce and you can have a different tasty version every week for years. And this basil sauce is no exception. If you have never seen Thai basil, its leaves are narrow and green with a purple stem. They have a much spicier smell, sort of cinnamony or even a little like licorice, than regular basil and tend to hold their flavor better during cooking. I loved cooking with it and hope that I can find some nearer to home. Ummm, maybe my herb garden has a little room for a new plant.
Hope you enjoy!
Grilled Salmon with Thai Basil Sauce
Ingredients:
2 6-oz 1" thick fillets, with or without skin
Salt & pepper to taste
Thai Basil Sauce
½ cup Thai basil leaves + some for garnish
¼ cup mint leaves
1 Tablespoon jalapeno pepper, seeded & minced
1-½ Tablespoons rice wine or white wine vinegar
2 teaspoons ginger, minced
¾ teaspoon palm sugar
1-½ teaspoon fish sauce
1-½ cloves garlic, chopped
Garnish
2 lime wedges for garnish
Directions:
Preheat grill.
Season salmon with salt and pepper.
Spray grill rack with a nonstick cooking spray. Place salmon on grill, if salmon has skin on one side place this side down first, then grill for 16 minutes, 8 minutes per side. If salmon is thinner reduce cooking time.
While salmon is grilling prepare sauce. In a blender or food processor, mix all Thai Basil Sauce ingredients and blend until smooth.
Serve salmon hot off the grill, with small amount of sauce drizzled on top and a garnish of lime wedges and Thai basil. Serve additional sauce on the side
Serves 2.
Wine Pairing:  Salmon, being a strong fish, deserves a wine that will complement its flavor, and it can be either a white or red depending on the preparation. In this case, with the strong flavor of basil and the spiciness of the jalapeno, it is best paired with a crisp Pinot Gris, Sauvignon Blanc or unoaked Chardonnay. These wines have a touch of sweetness and nice full aromas of citrus and other tropical fruits that tend to enhance the herbal accents of the dish. The higher levels of sugar also tend to offset a little of the spiciness.  If you are a red lover, you might also pair with a Pinot Noir or Rose.