This shop has been compensated by Collective Bias, Inc. and its advertiser. As always, all opinions are 100% my own. #NaturallyCheesy #CollectiveBias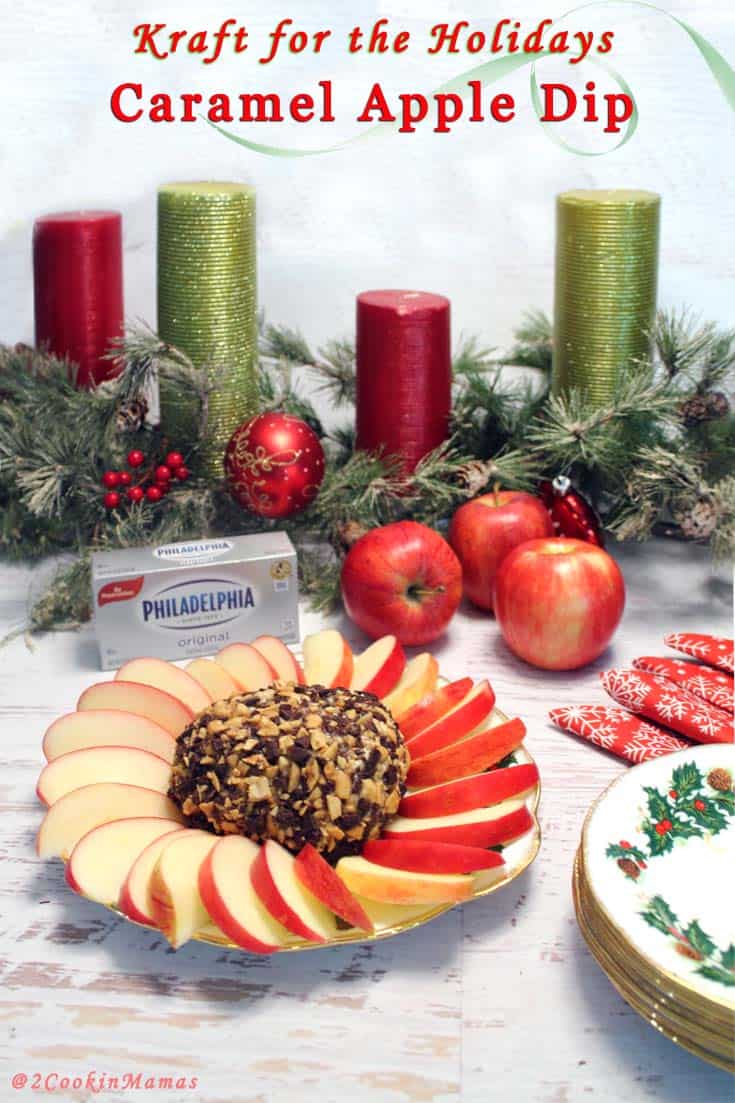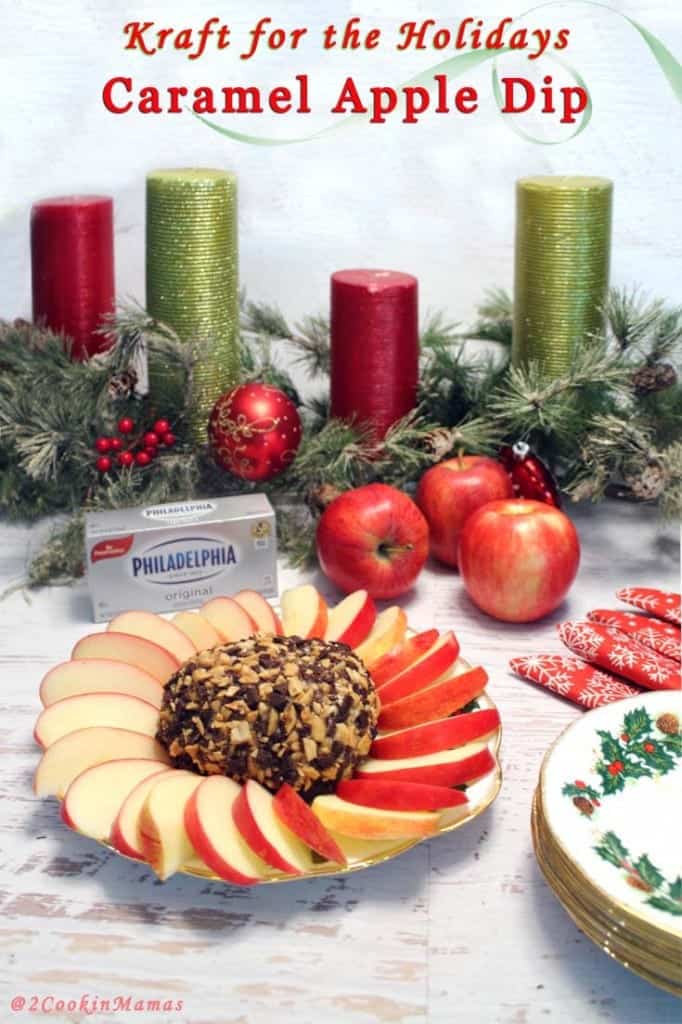 The holidays are such a beautiful time and what makes them especially wonderful is being able to share them with family and friends. And naturally that brings to mind social gatherings, both large and small, with a beautifully set table and equally delicious food. And today's appetizer recipe using Kraft Philadelphia Cream Cheese and crispy apple dippers is no exception.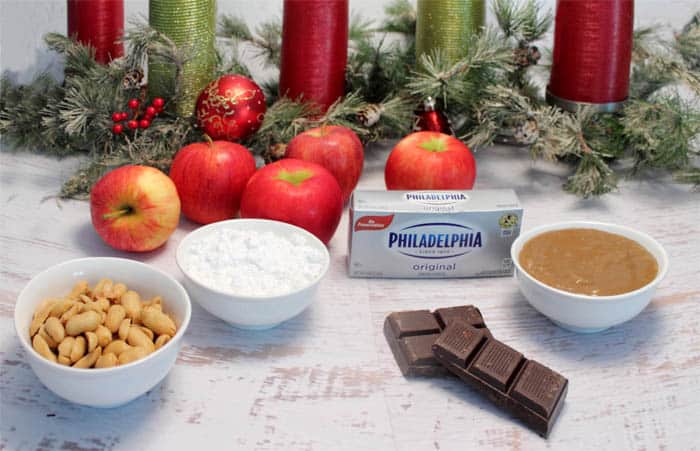 This recipe was on my list to make even before I was selected by Collective Bias to make a quick & easy appetizer using a Kraft product. One of my favorite go-to products has got to be Kraft Philadelphia Cream Cheese. I always have some on hand in the refrigerator for spreading on bagels for breakfast, baking up my holiday Turtle Cheesecake Cookies or frosting my favorite Chocolate Carrot Cupcakes. Well, almost always!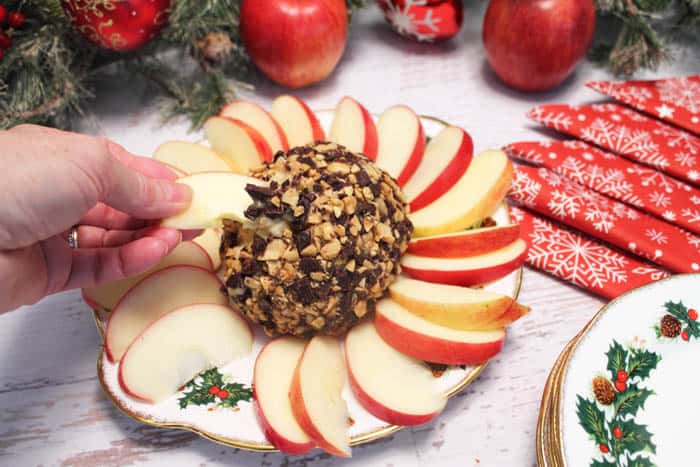 With all my holiday baking, I had used up my current supply so I took a trip to my local Walmart to shop for more. It's always easy to find, right in the dairy section next to other Kraft cheeses, but this time was even easier as they had stocked it in two places right across from one another. One in a special display...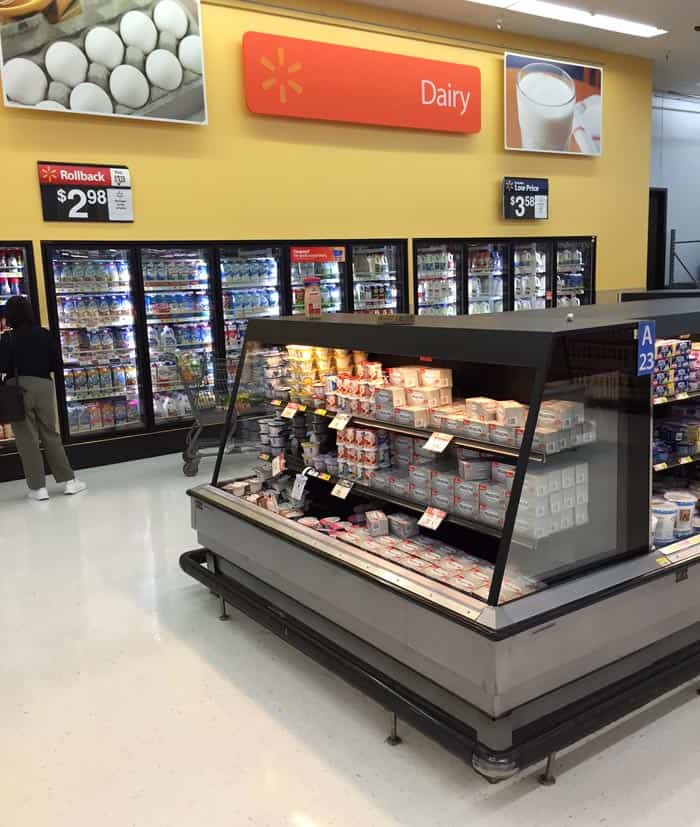 and one right across from it. And, as luck would have it, Kraft had a coupon for $1 off two packages of Kraft Philadelphia Cream Cheese. Woohoo! (check out their most recent coupons here).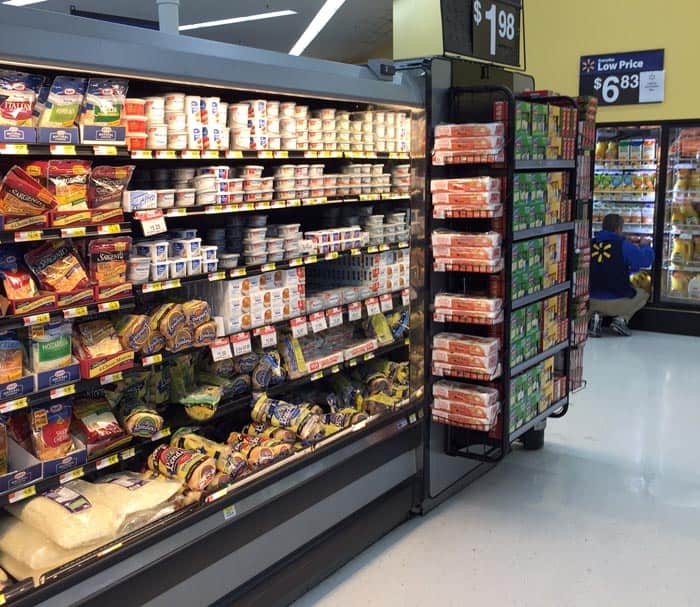 This appetizer will impress everyone on your guest list! It tastes like a combination of a caramel apple, the ones covered in peanuts, and cheesecake. (drool is allowed here) OK, now that I have your attention, what are you waiting for? It only takes a few minutes and 5 ingredients plus some sliced apples and you have an appetizer (or a dessert) that will get rave reviews!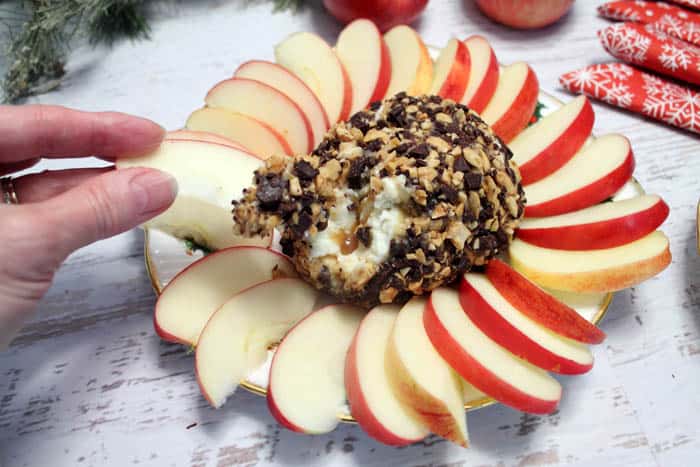 Enjoy & may you have a bright, wonderful and delicious holiday season!
Easy Caramel Apple Dip
Ingredients:
8-oz Kraft Philadelphia Cream Cheese
½ cup confectioner's sugar
4-6 oz caramel topping (or use Kraft Caramels & make your own)
⅓ cup Planters peanuts, chopped
⅓ cup dark chocolate, chopped
3-5 apples, sliced
Directions:
In a bowl of an electric mixer, beat cream cheese until smooth. Add confectioner's sugar and continue to mix until well combined.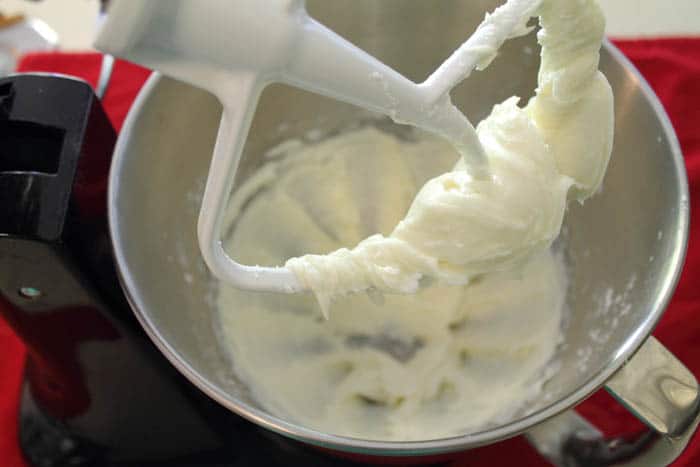 Pour in caramel topping and swirl with knife or spatula.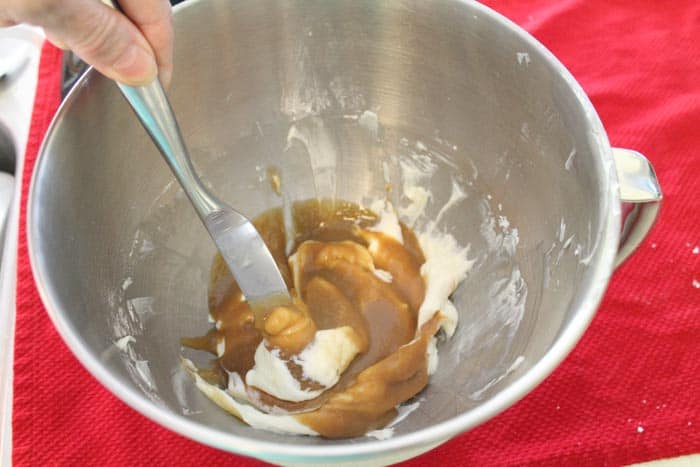 Wrap and place in freezer for about 30 minutes to make it easier to roll into ball.
On a cutting board, chop peanuts and chocolate into small pieces and combine together.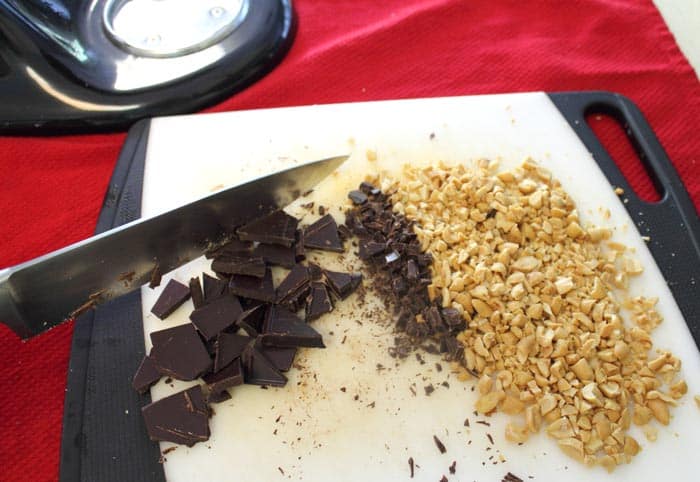 Remove caramel-cheese mixture from freezer, unwrap, form into a ball and roll  to cover in chopped chocolate and peanuts.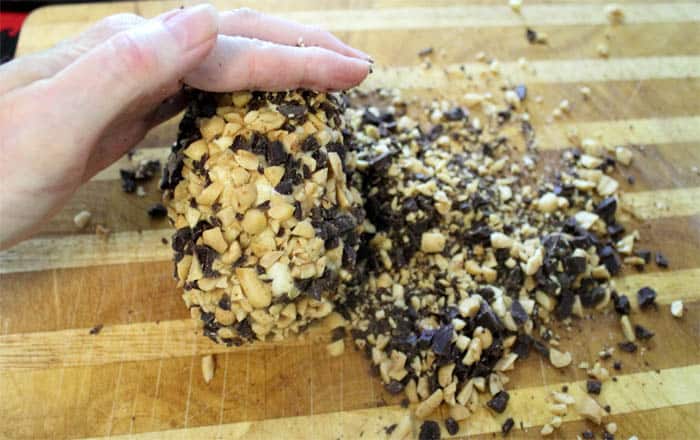 Place cheese ball on plate and arrange cut apple slices around it. Hint: Cut apples slices and place in ice water to keep them from turning brown.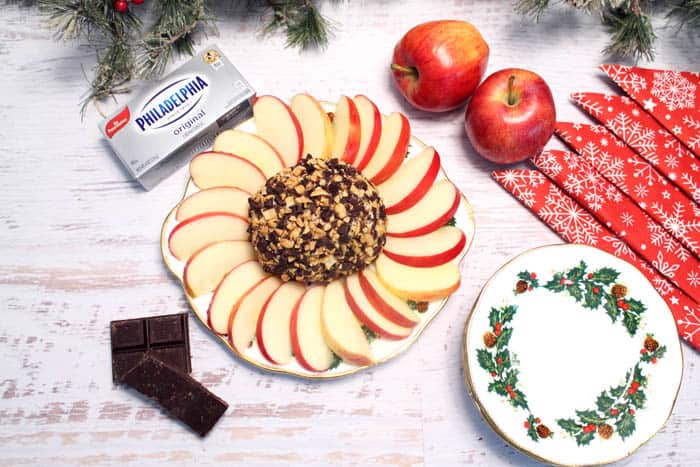 If you have any of your Caramel Apple Dip left, OK I know there will be none left but bear with me anyway, it is perfect for making Stuffed French Toast. In fact, I make it up just to use for this and it would make a great Christmas morning breakfast. Give it a try and let me know what you think.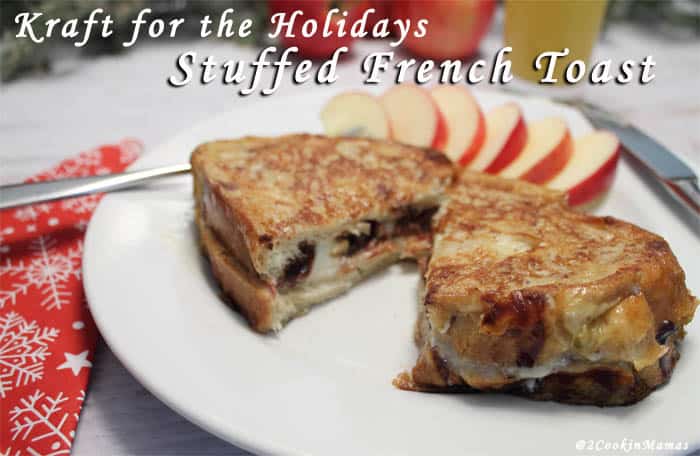 Stuffed French Toast
Ingredients:
4  1"-slices of challah or egg bread
2+ Tablespoons butter
Leftover Caramel Apple Dip (enough to spread on two pieces of bread)
Batter
4 eggs
1 cup almond milk (coconut, rice, soy or lowfat milk)
2 Tablespoons brown sugar
1 teaspoon cinnamon
1 teaspoon vanilla
Directions:
n a medium bowl, whisk all ingredients together for batter. Set aside.
Place 2 slices of bread on plate. Spread generously with caramel apple dip. Place the remaining  slices of bread on top of each filling-covered slice and press together.
Place 2 tablespoons butter on large flat griddle or skillet, turn heat to medium and wait until butter has melted. Take each french toast "sandwich" and holding together, dip into batter. I like to leave in for about 5 minutes to give it time to soak up all the goodness. Place on hot griddle. Repeat with remaining "sandwich". Brown well then turn and brown other side. Add more butter to pan if the toast begins to stick. Check to make sure that the filling has melted before serving.
Serve with maple syrup and a side of Oscar Meyer bacon.
Serves 2.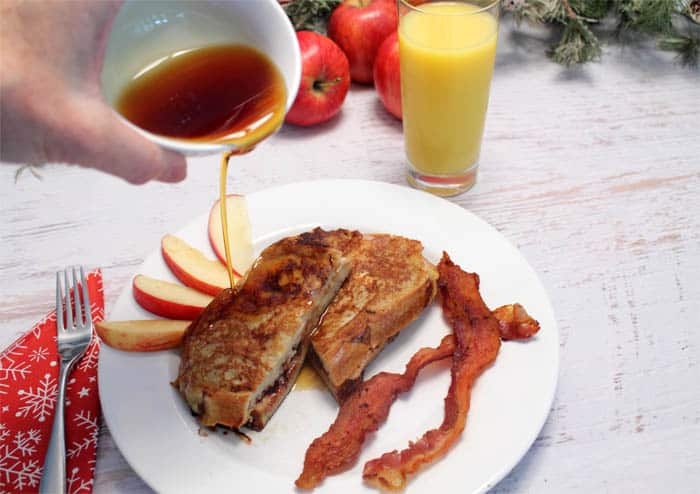 You can find more awesome holiday recipes using Kraft products on their site and save money too!
What's your favorite dish to make around the holidays with delicious Kraft Heinz products?
DON'T MISS A RECIPE!