An easy and healthy maple bacon oatmeal casserole for on-the-go breakfasts. Flavored with maple syrup, bacon & a layer of fruit, it's a delicious way to start any day.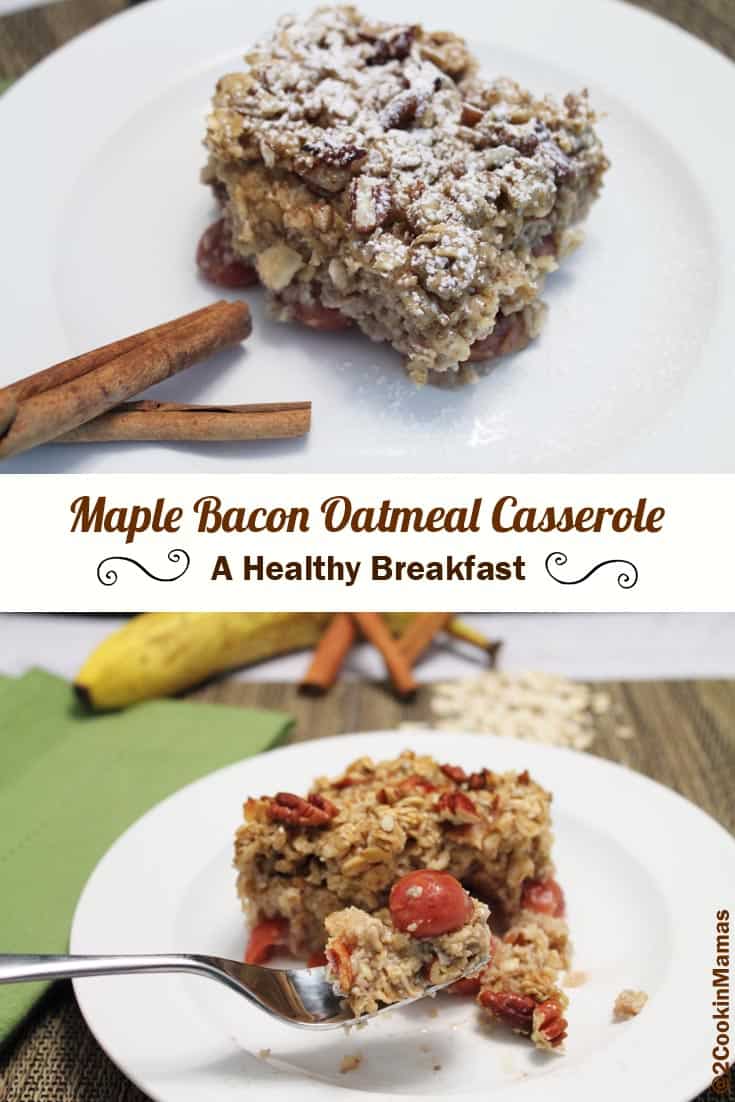 You know those busy days when you are just rushing to get to work on time or get the kids off to school and there is just no time to whip up a healthy breakfast? Well, I figured there had to be a way to make that all important breakfast quickly and easily and one that would taste delicious too. So I set out to create a recipe that would do just that.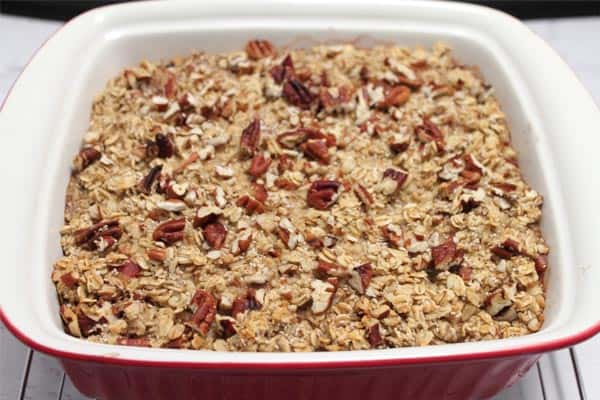 I decided to tackle two challenges in one recipe. Not only did I want to find a way to make a quick breakfast but I wanted to make it with oatmeal too. Now I bet you are wondering what the second challenge is. OK, here it is and I'm being honest here, I do not like oatmeal. There I said it! OK, that is not exactly true since I love oatmeal cookies and granola but I'm talking hot oatmeal here. Everyone is probalby going "What!" but it's so good for you! Which is exactly the reason I wanted to take the challenge on and make the oatmeal so good that I would finally become a fan!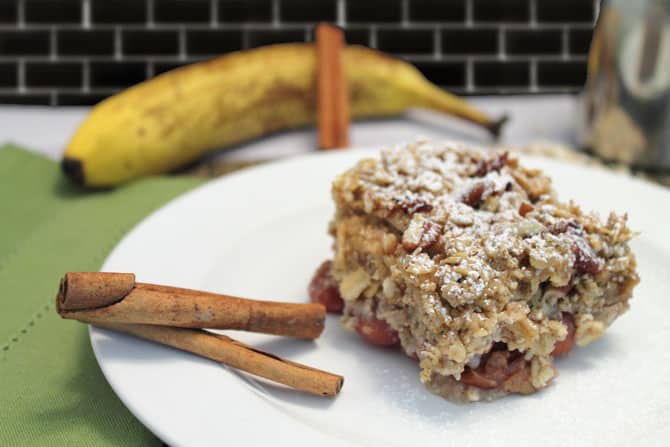 And I actually did it! In fact, my husband, who is also is not very fond of oatmeal, said it was delicious! (a little pat on the back for myself on this one)
This casserole has fruit on the bottom, and a rich layer of oatmeal flavored with maple syrup and little salty, crunchy pieces of bacon and nuts on top. Everything your body needs for a healthy breakfast. And, if you are a vegetarian, just leave off the bacon and you are good to go.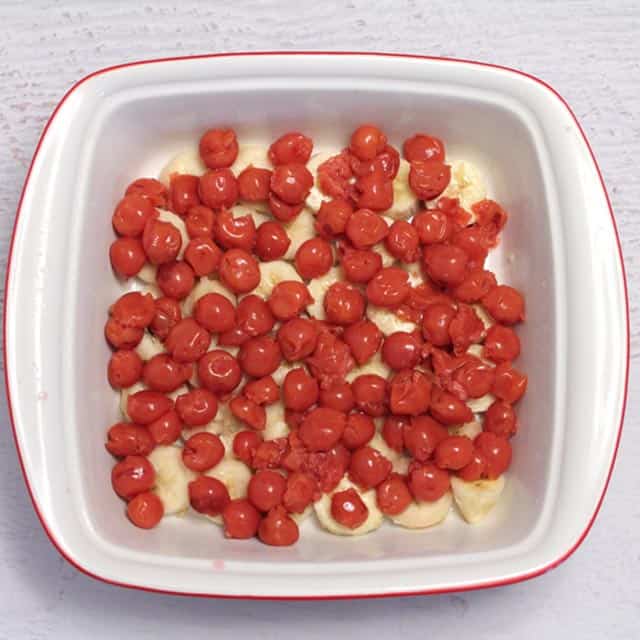 For on-the-go, I like to cut my oatmeal casserole into squares and place them in small plastic containers to send to work with my husband. All you need to do after that is heat it in a microwave for 1-1/2 to 2 minutes and you have a delicious hot oatmeal breakfast. You can eat it cold as well but I think it is much better warmed up. You can also use different fruit in place of the cherries. I think apples or blueberries would be fantastic subs.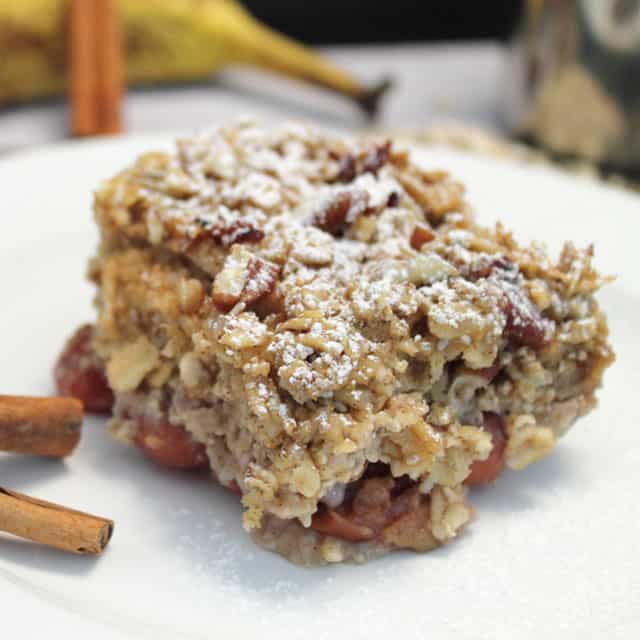 I'd love to know your favorite way to fix oatmeal! Leave a comment and help me learn new ways to fix this nutritious breakfast food.
Enjoy!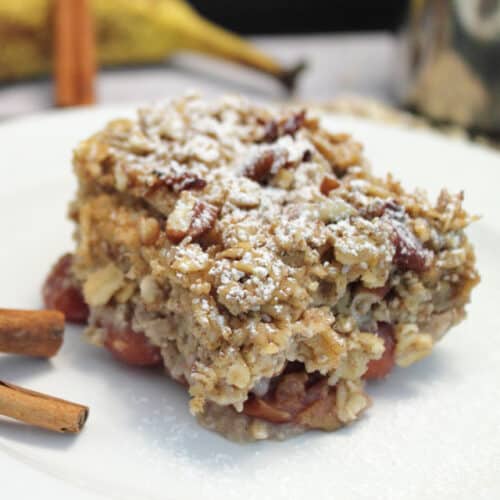 MAPLE BACON OATMEAL CASSEROLE
An easy and healthy oatmeal casserole for on-the-go breakfasts. Flavored with maple syrup, bacon & a layer of fruit, it's a delicious way to start any day.
Ingredients
2

cups

rolled oats

(gluten-free version if needed)

1/2

cup

pecans,

chopped

1-2

Tablespoons

chia seeds

1

teaspoon

baking powder

1-1/2

teaspoon

cinnamon

1/2

teaspoon

salt

2

pieces

bacon,

cooked & crumbled (optional)

1/3

cup

maple syrup

2

cups

milk

(I used almond milk)

1

large egg

1-1/2

Tablespoon

butter,

melted

2

teaspoons

vanilla extract

2

ripe bananas,

sliced

1

14.5-oz

can tart cherries,

drained

Powdered sugar

(optional)
Directions
Preheat oven to 375 degrees. Place rack in top third of oven. Spray an 8×8-inch baking dish with non-stick cooking spray.

In a large bowl, combine oats, 1/4 cup pecans, chia seeds, baking powder, cinnamon, salt and bacon.

In a small bowl, mix maple syrup, milk, egg, butter and vanilla and whisk until well combined.

To assemble: Line bottom of baking dish with banana slices. Pour cherries over bananas. Cover with oat mixture then drizzle maple syrup-milk mixture over all. Sprinkle remaining 1/4 cup pecans on top.

Bake for 35-45 minutes. Just before serving dust with powdered sugar.

Oats and other whole grains have a special fiber called beta-glucan that is beneficial in reducing cholesterol. Their fiber also has antioxidant compounds that reduce the risk of heart disease and enhance the immune system. Scientists have suggested the most benefit can be had if eaten 6X per week. 
More delicious breakfast options!
Craving more? Sign up for 2 Cookin' Mamas' weekly newsletter for delicious recipes delivered right to your inbox!