Quick and easy Pineapple Fried Rice is filled with fresh sweet pineapple, cashews, and plenty of vegetables. It's a great side dish to any Asian dinner. Add chicken, ham, or shrimp for a delicious 30-minute one-pot stir-fry meal.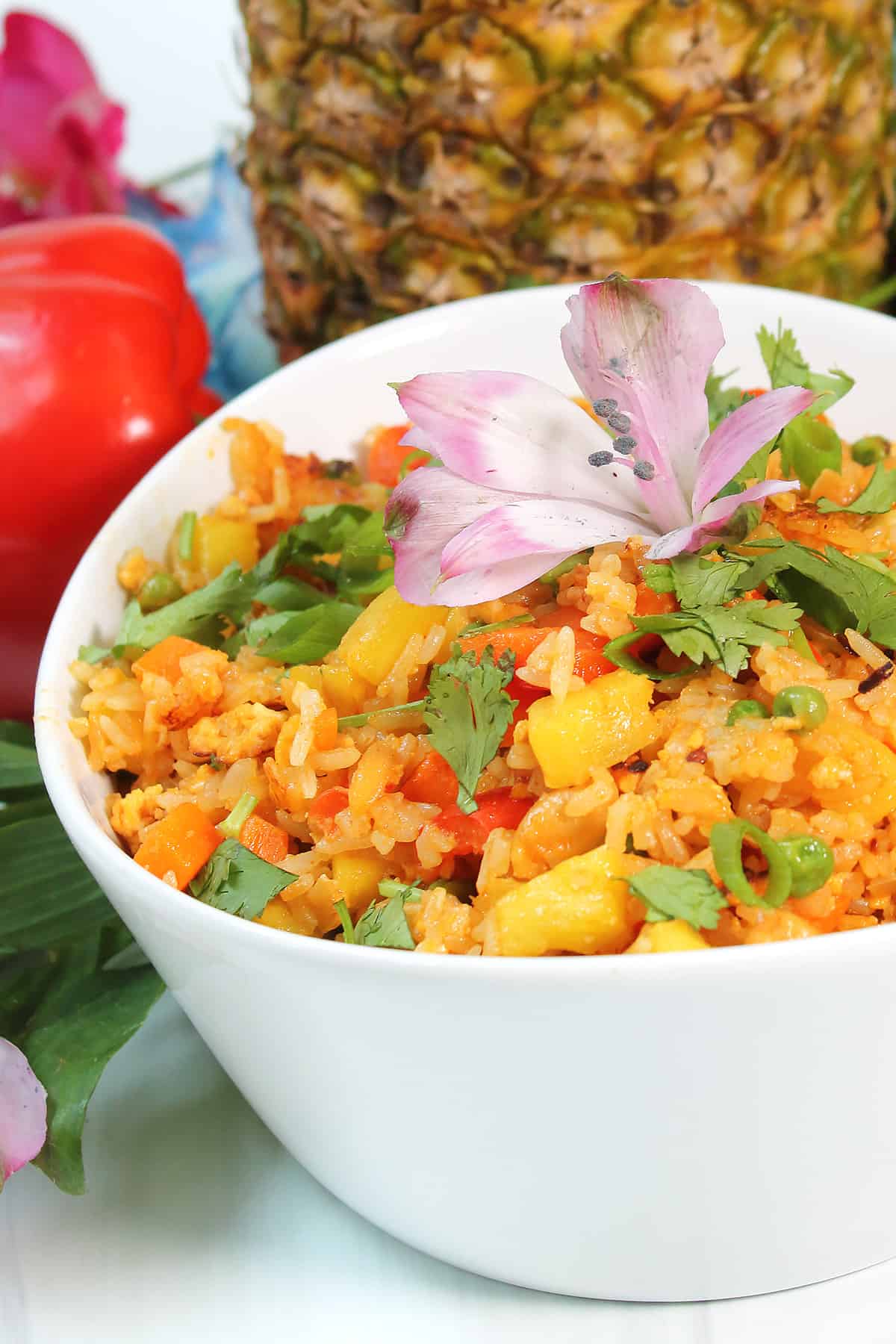 Thai dishes are some of my all-time favorites and this Pineapple Fried rice has to be at the top of my list. I think it's the sweetness of the pineapple combined with the spiciness of the curry paste that puts it on my table so often.
It is easy to make, can be prepped ahead of time, and makes an excellent side dish to tropical dishes, like Pineapple Pork Chops, BBQ dishes such as Grilled Salmon, and Seared Tuna & Mango Kabobs and, of course, anything Thai like my easy Thai Red Curry with Beef.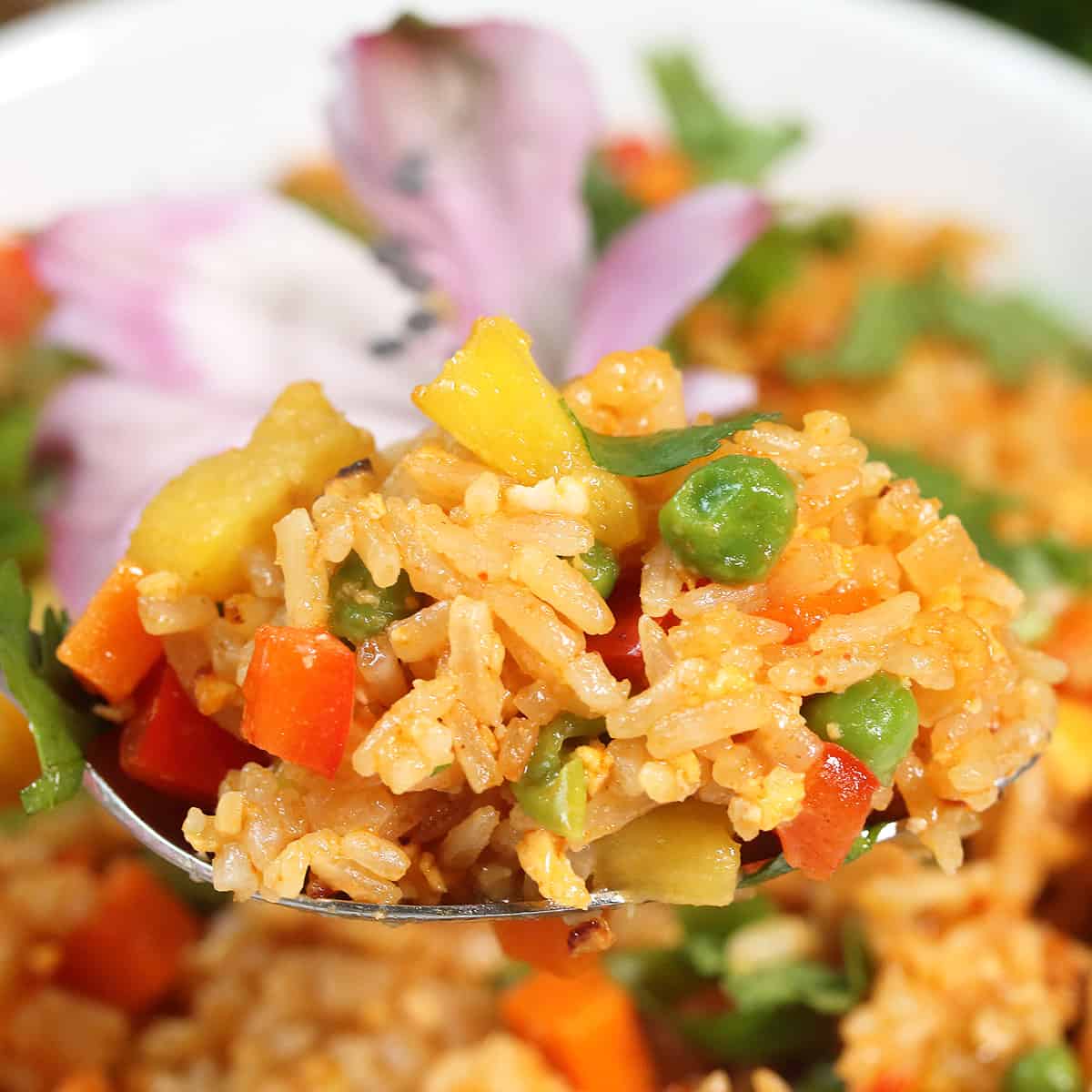 Check out this closeup showing all those tasty veggies, juicy pineapple pieces, and a hint of the Thai curry paste in the color of the rice. Now that is one sweet mouthful!
Why This is the Best Pineapple Fried Rice Recipe
Quick & Easy
Healthy Side
Better Than Take-out
Delicious dinner - just add protein!
Recipe Ingredients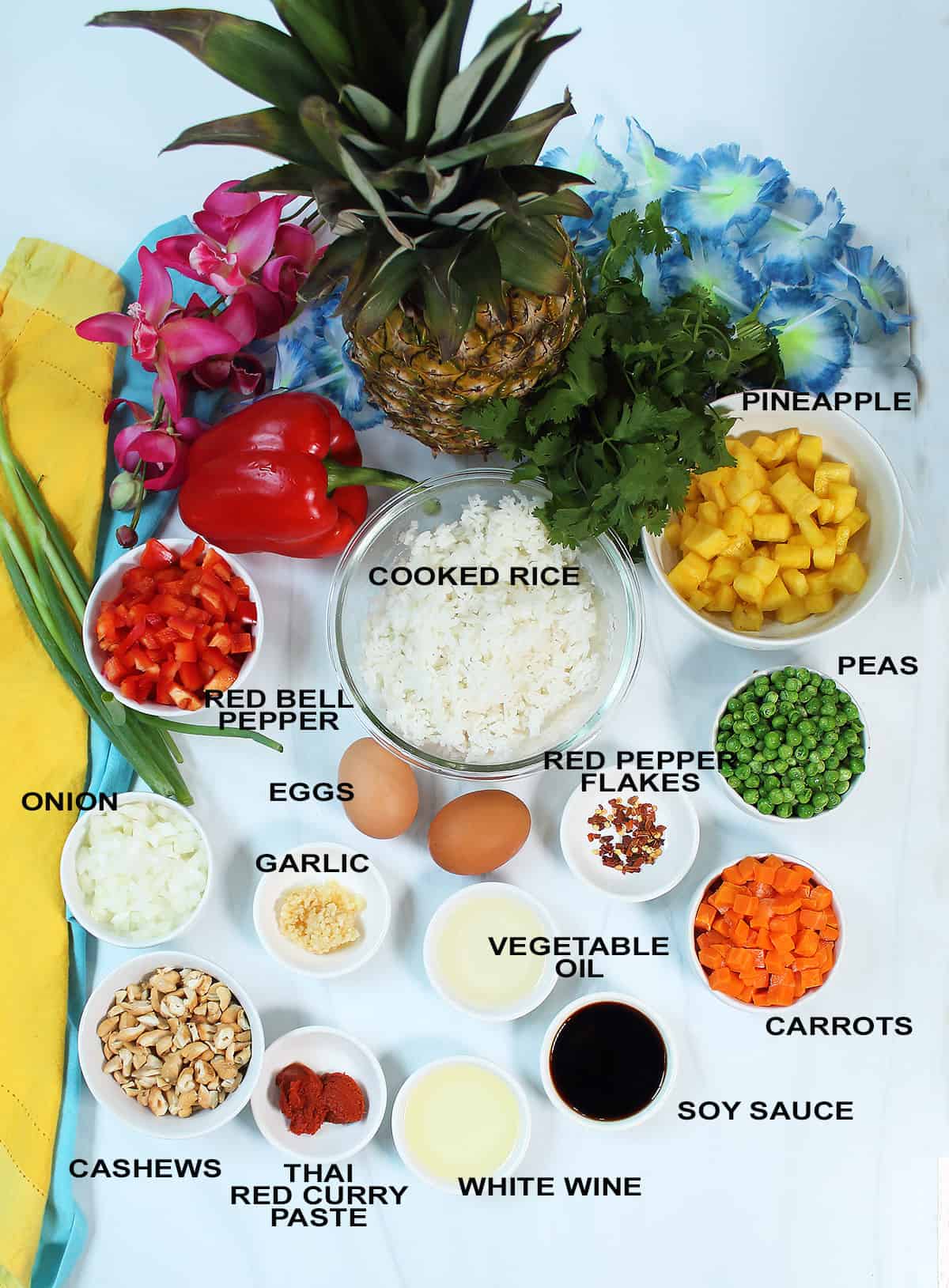 What is fried rice made of? Well, fried rice with pineapple has a lot of ingredients, but don't let that intimidate you. The ingredients go together quickly and the result is amazing fried rice you'll want to make often.
Cooked, Cold Rice
Vegetable oil
Onion
Garlic
Red Bell Pepper
Crushed Red Pepper Flakes
White Wine or Broth (Chicken or Vegetable)
Carrot - can be fresh or frozen
Peas
Pineapple - Fresh or Canned
Roasted Cashews
Soy Sauce
Thai Red Curry Paste
Green Onions
Fresh Cilantro
Rice for Fried Rice
You may wonder, what is the best rice for fried rice? The most common choices are basmati or jasmine rice for fried rice. However, you can also use:
Black Rice
Brown Rice
Minute Rice
White Rice
Wild Rice
Cauliflower Rice Fried Rice
Making pineapple cauliflower rice is a great way to lower the carbs that are in regular fried rice. Simply substitute the rice with cauliflower rice. You can find cauliflower rice in the grocery store or make it by pulsing raw cauliflower in a food processor.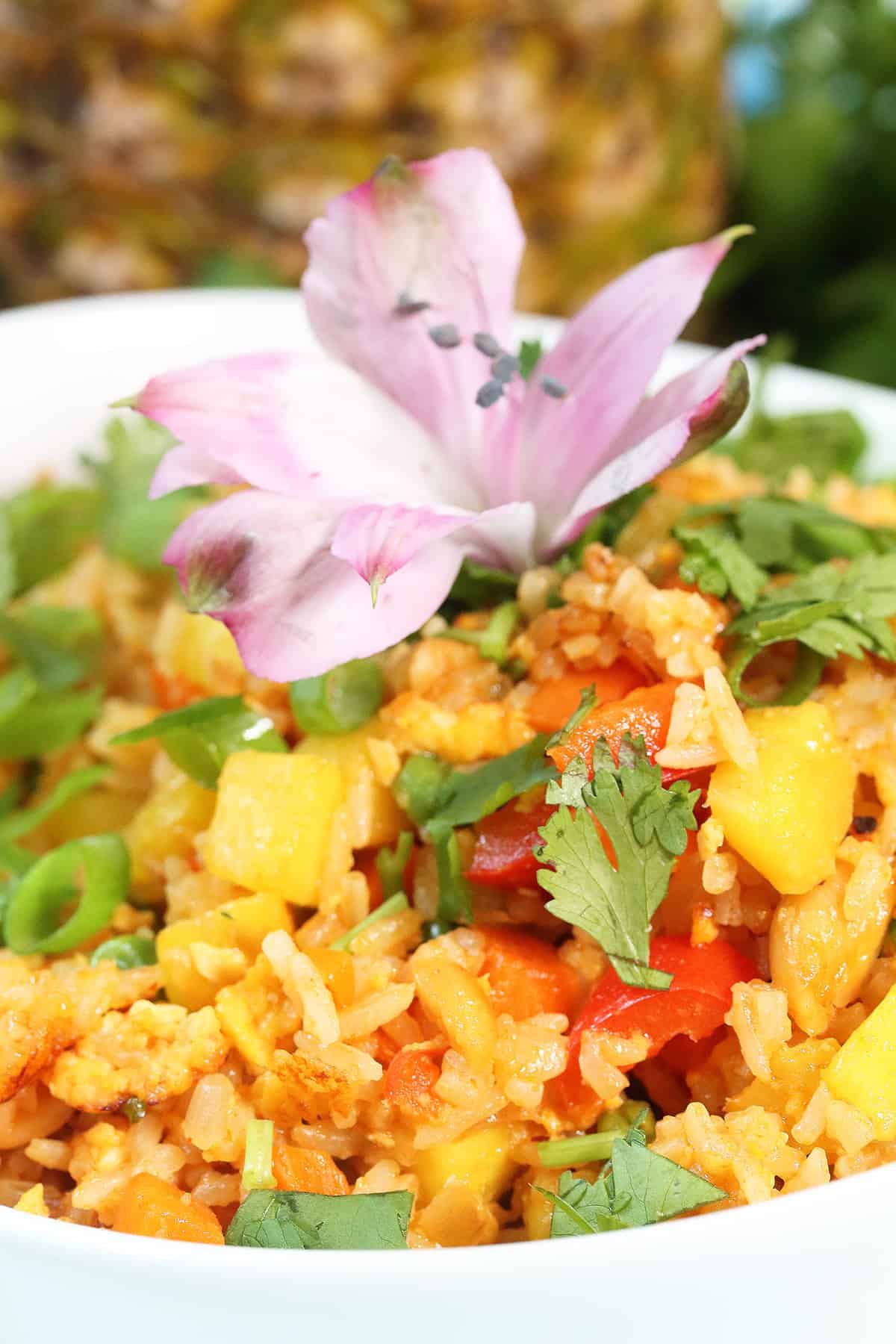 How to Prepare Rice for Fried Rice
Fried rice is made with cold, cooked rice. It is best to make the rice a day in advance and let it cool and dry in the refrigerator overnight.
Be sure to rinse the cooked rice with cold water to remove the extra starch. Rinse until the water runs clear. Drain it well.
Spreading out the rinsed and drained rice in a large dish or on a baking sheet will help it dry out. Refrigerate it uncovered. The cold dry rice will fry up wonderfully.
How to Quickly Chill Rice for Fried Rice
Cook the rice
Rinse the rice with cold water.
Spread the rice out into a thin layer on a baking sheet.
Put it in the refrigerator for 1 hour. For faster chilling, put it in the freezer for 15 minutes or until cold but not frozen.
How to Make Pineapple Fried Rice
Assembling the ingredients for this tropical fried rice ahead of time will make pulling this meal together practically effortless.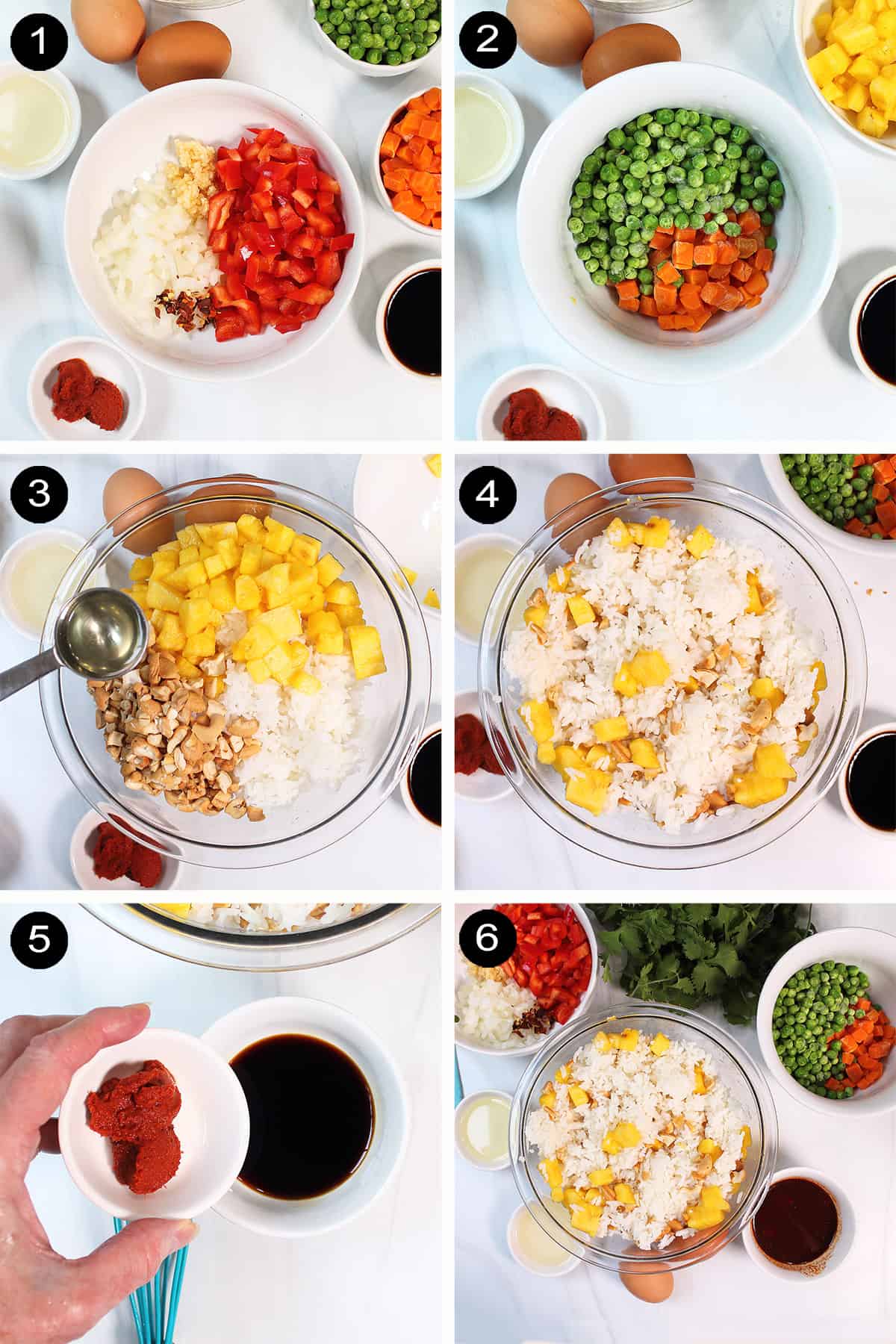 Place chopped onion, bell pepper, and garlic along with red pepper flakes in a small bowl.
In another small bowl, combine peas and carrots.
Combine cooked rice, pineapple and chopped cashews in another bowl then add a tablespoon of oil.
Toss the rice mixture together to coat all ingredients.
Whisk together soy sauce and Thai red curry paste.
Assemble all ingredients within easy reach of the skillet.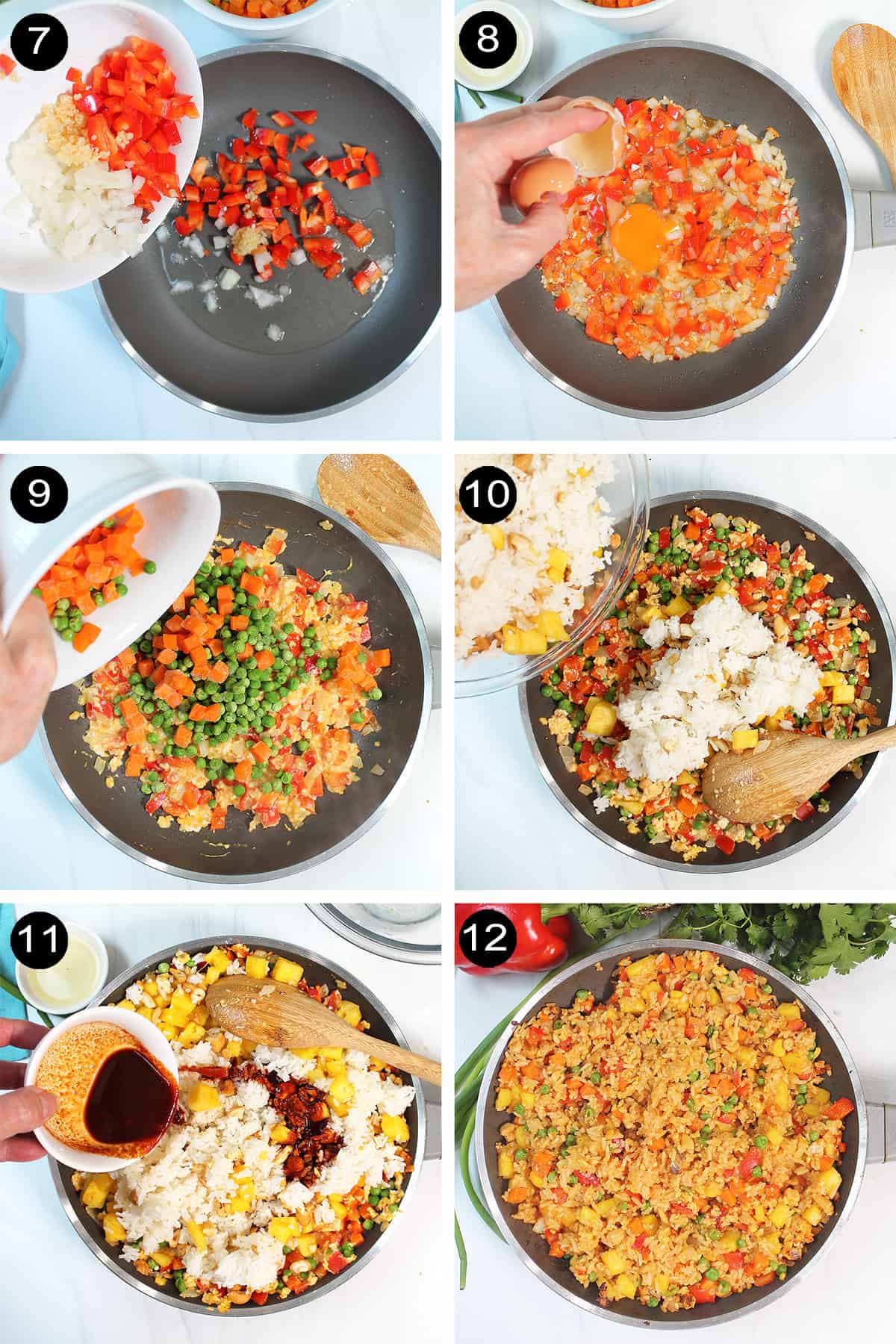 Heat oil in skillet then add the first bowl of onion, pepper, and garlic. Stir fry for 1 minute.
Continue by adding egg to fried rice. Scramble quickly and cook until done.
Stir in the peas and carrots from the second bowl and stir fry for 1-2 minutes.
Add the rice mixture.
Add the soy-curry paste mixture and stir to incorporate.
Stir fry for 5-8 minutes.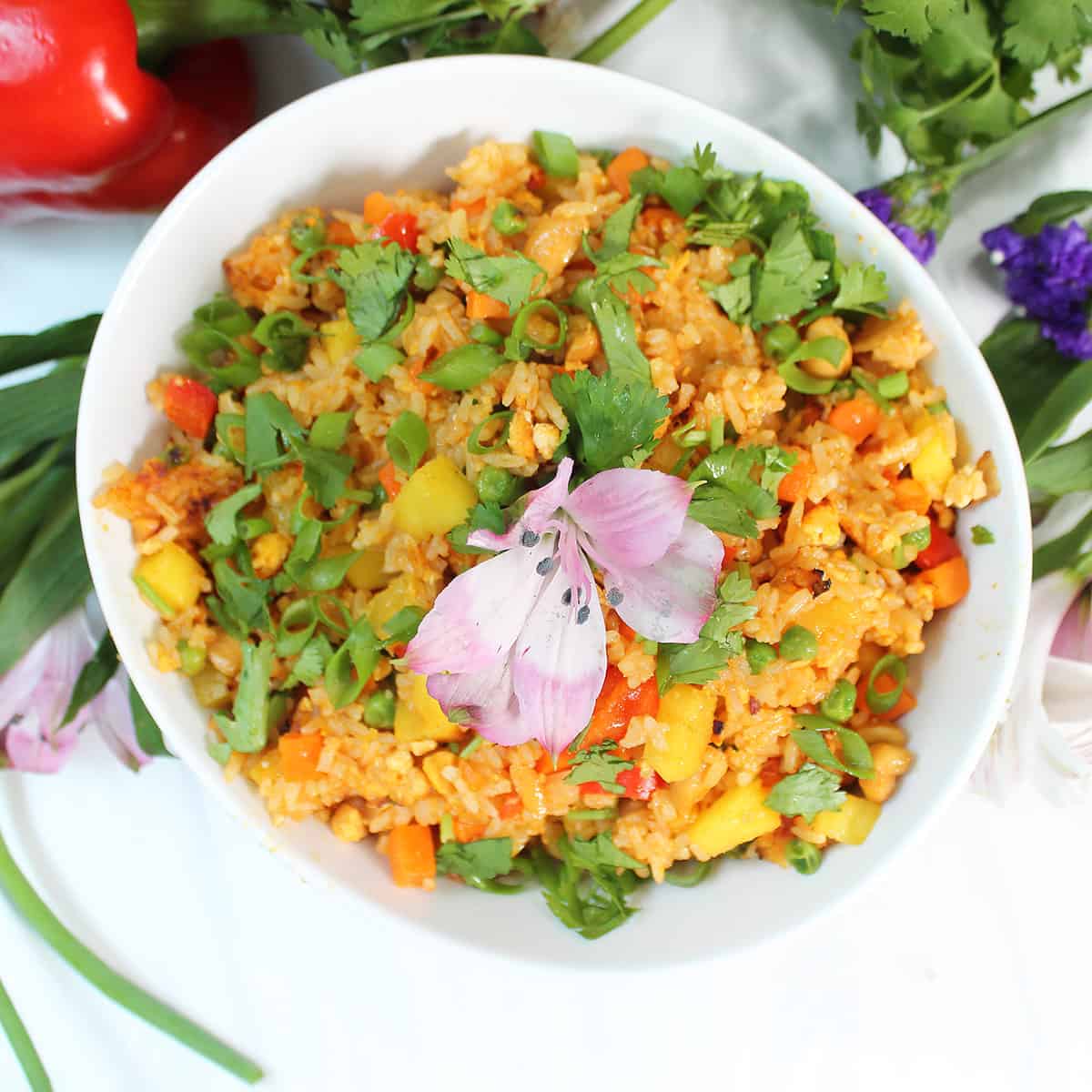 Garnish with sliced green onions, chopped cilantro, and for a nice finishing touch, a flower.
Recipe Variations
Basil Pineapple Fried Rice - substitute the cilantro with basil.
Coconut Pineapple Fried Rice - cook the rice in coconut milk instead of water.
Thai Fried Rice with Pineapple - substitute the soy sauce with fish sauce and use Thai basil instead of cilantro.
Vegetarian Pineapple Fried Rice - if not using white wine, use vegetable broth instead of chicken broth.
Vegan Pineapple Fried Rice - omit the eggs and use vegan broth instead of wine or chicken broth.
Protein Additions
Bacon Pineapple Fried Rice - add crispy bacon bits along with the vegetables.
Pineapple Chicken Fried Rice - stir-fry ½ pound of chicken pieces ahead of the rice and add them after frying the rice.
Pineapple Shrimp Fried Rice - add ½ pound of peeled and deveined shrimp to the rice a few minutes before the rice has finished frying. Shrimp doesn't take long to cook and you don't want to overcook it.
Fried Rice with Pineapple and Ham aka Hawaiian Fried Rice. Omit the Thai red curry paste and stir in ham pieces after frying the rice.
How to Make in Advance
Cook the rice at least a day before and store it in the refrigerator. To speed up the prep time, chop all vegetables and pineapple then place them in their appropriate bowls, cover, and refrigerate. Chop nuts. When ready to stir fry, take out, place by the stove, and start cooking.
How to Serve Fried Rice with Pineapple
There are a few great ways to serve fried pineapple rice. One would be in a bowl or on a platter. The other is in a pineapple boat.
What to Serve with Pineapple Fried Rice
These dishes are great for serving with fried rice:
How to Store and Reheat Leftovers
Storing - Covered well, fried rice will keep 5-7 days in the refrigerator.
Reheating - The best way to reheat fried rice is in the microwave. Place the rice with a tablespoon or so of water, stock or oil, into a microwave-safe dish and microwave on 50% power for 1-2 minutes, stirring at 30-second intervals. Optionally, you can reheat in a skillet with a little oil for 5-10 minutes.
Freezing - Fried rice freezes very well and will keep for 3 months.
Frequently Asked Questions
What alcohol goes best with fried rice?
Wine pairs nicely with fried rice. For white wines, try Chardonnay, Pinot Gris, Pinot Grigio, or a dry Riesling. For red wines, try Pinot Noir, Syrah, or Shiraz. A dry Rosé is also a great choice.
Where does pineapple fried rice come from?
Pineapple fried rice originated in Thailand. It is believed to be created by Chinese people living in Thailand who noticed many Thai dishes included fruit so they added pineapple to fried rice.
Does fried rice have milk?
Pineapple fried rice is dairy-free.
Why do they put egg in fried rice?
Egg adds protein, flavor, and texture to fried rice.
Does rice have to be cold to make fried rice?
Cold or day-old rice is best for fried rice. The rice being cold prevents it from sticking together and getting mushy. Day-old rice also is drier and rice with less moisture is better for frying.
LOVE QUICK & EASY RECIPES? FOLLOW ME ON INSTAGRAM, FACEBOOK, & PINTEREST FOR ALL THE LATEST RECIPE INSPIRATION! PLUS JOIN MY EMAIL LIST AND RECEIVE A FREE E-BOOK.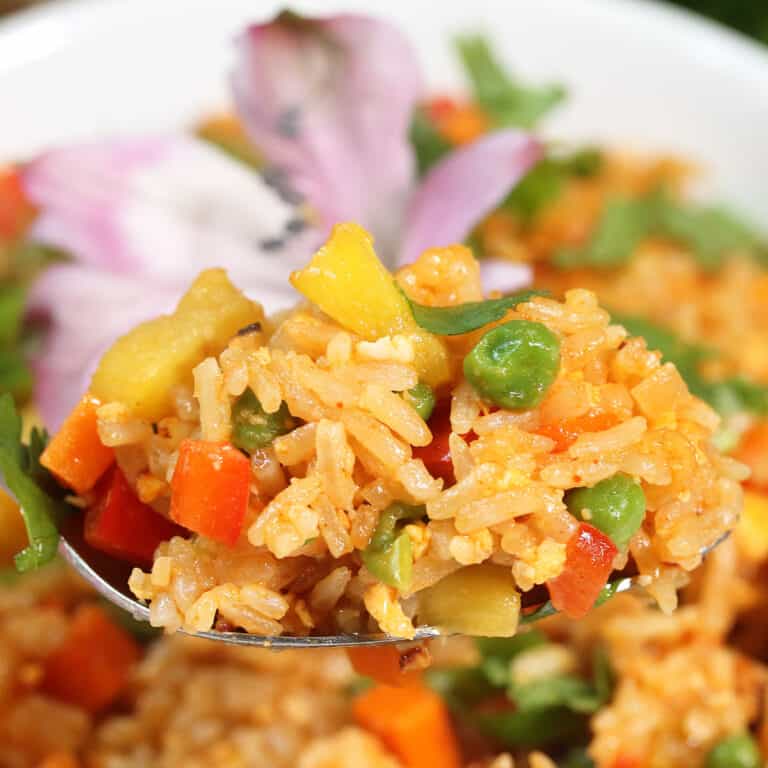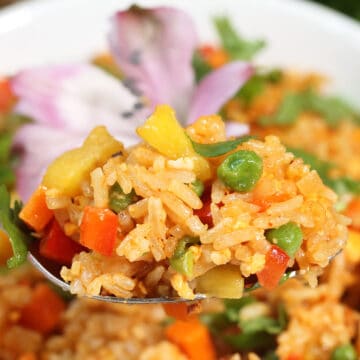 Pineapple Fried Rice
A quick and easy side dish filled with sweet pineapple, cashews & vegetables. Add chicken or shrimp for a 30-minute one-pot dinner.
Print
Rate
Ingredients
3

cups

cooked jasmine rice

3

Tablespoons

vegetable oil

⅓

cup

onion

chopped

3

cloves

garlic

chopped fine

1

red bell pepper

chopped

¼

teaspoon

crushed red pepper flakes

1-2

Tablespoons

white wine, chicken or vegetable stock

2

eggs

1

carrot

grated

½-3/4

cup

frozen peas

1

cup

pineapple chunks

chopped

½

cup

roasted cashews

chopped

3

Tablespoons

soy sauce or Tamari

2

teaspoons

Thai red curry paste

2

green onions

sliced thin

¼

bunch cilantro

chopped
Instructions
Cook rice according to package directions. This recipe works best if the rice is cooked the day before so it dries out slightly. If cooking the same day, cook earlier in the day and place in refrigerator without a lid so it dries more quickly.

When ready, assemble ingredients:

Place onion, garlic, bell pepper and red pepper flakes together in bowl.

Place carrots & peas in a second bowl.

Place rice mixed with 1 Tablespoon of vegetable oil, pineapple chunks and cashews in another bowl.

Mix soy sauce and Thai curry paste together and set aside.
To cook:
Heat 2 tablespoons of oil in large skillet over medium-high heat.

Add the onion-pepper mixture from the first bowl and stir-fry for about 1 minute. If pan becomes a little dry add a little chicken stock or white wine.

Add the 2 eggs and scramble quickly mixing in with onion mixture.

Add the carrots and peas from second bowl and stir-fry another minute or two.

Now add the rice mixture to the pan along with the soy sauce/curry paste and stir-fry about 5-8 minutes. They usually say to cook until you hear the rice making popping sounds.

Place into serving bowl and garnish with green onion and cilantro.
Notes
HOW TO QUICKLY CHILL RICE FOR FRIED RICE
Cook the rice
Rinse the rice with cold water.
Spread the rice out into a thin layer on a baking sheet.
Put it in the refrigerator for 1 hour. For faster chilling, put it in the freezer for 15 minutes or until cold but not frozen.
Nutrition
Calories:
448
kcal
|
Carbohydrates:
54
g
|
Protein:
12
g
|
Fat:
21
g
|
Saturated Fat:
4
g
|
Polyunsaturated Fat:
8
g
|
Monounsaturated Fat:
8
g
|
Trans Fat:
0.1
g
|
Cholesterol:
82
mg
|
Sodium:
807
mg
|
Potassium:
449
mg
|
Fiber:
4
g
|
Sugar:
9
g
|
Vitamin A:
4260
IU
|
Vitamin C:
69
mg
|
Calcium:
67
mg
|
Iron:
3
mg
This post has been updated with new photos and step-by-step directions. It was first published on August 19, 2013.