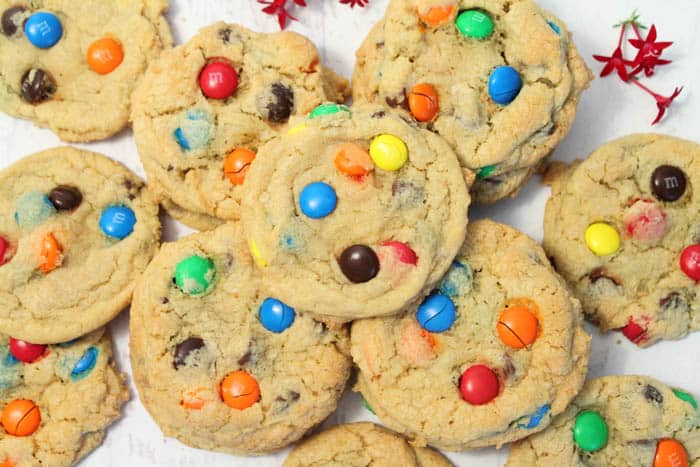 Nothing's better than a big bakery-style chocolate chip cookie, right?! Well, except when they add lots & lots of delicious M&Ms! Woohoo, these M&Ms Chocolate Chip Cookies have got to be my favorite cookie because I can't live without my M&Ms!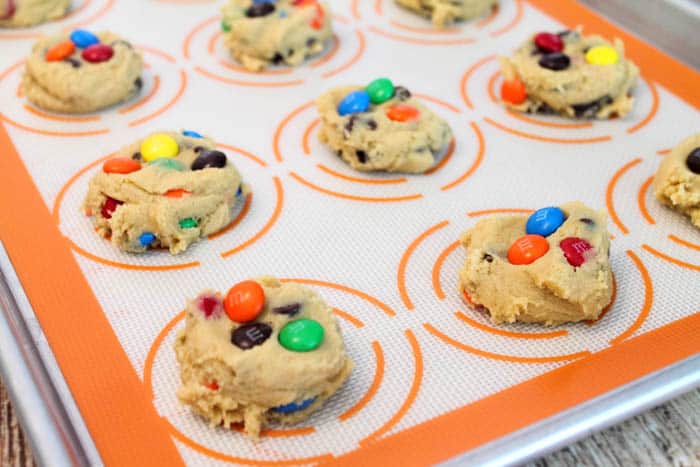 OK, that's enough with the exclamation points but these cookies really are out of this world good! (oops, slipped in one more :-)) These cookies have a secret ingredient that I picked up from Chelsea's Messy Apron blog and thought I would give it a try. It was a secret divulged to her from a restaurant dessert chef. He said that it keeps the cookies from puffing up too much and helps retain their chewiness. And who doesn't like slightly crisp on the outside and soft & chewy on the inside cookies. Want to know what it is? See recipe below for the big reveal.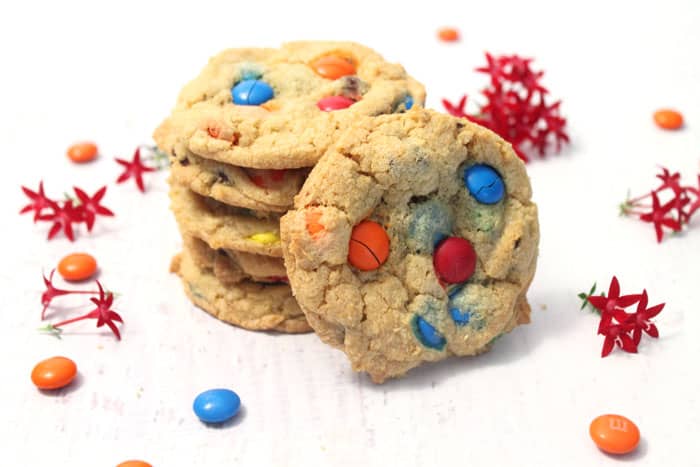 Now I don't know if they would have turned out this way without this secret ingredient but they sure tasted awesome with it. I also added some vanilla pudding to the batter which helps keep the cookies soft for days longer (if they last that long) and adds flavor too. I mean you could add a Cheesecake, Oreo or Coconut Pudding to these cookies and I bet they would be fantastic!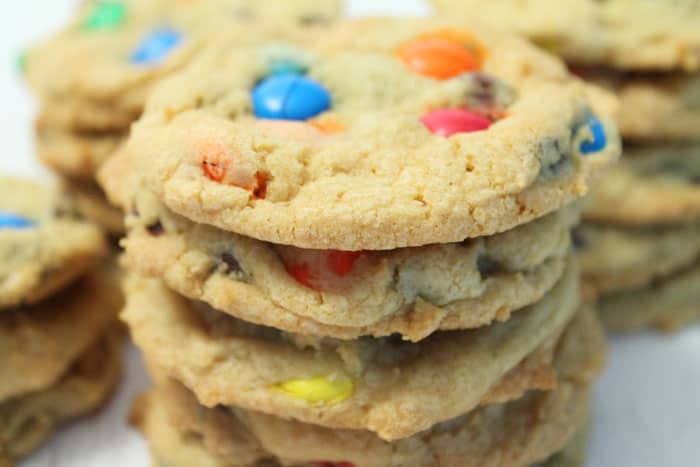 I made these cookies for our vacation where we were meeting up with my daughter's family & my adorable grandson. He loves M&Ms so, yes, Grandma is spoiling him and bringing him his favorite cookies. I'll let you know if he liked them.
If you like these cookies be sure to check out our Cookies & Cream Cookies, Easy Chocolate Cookies and our Gluten-free Chocolate Chip Cookies.
M&Ms Chocolate Chip Cookies
Ingredients:
3/4 cup butter, room temperature
3/4 cup light brown sugar, packed
6 Tablespoons sugar
1 Tablespoon vanilla extract
2 eggs
2 cups flour
1 pkg regular vanilla pudding mix (not made)
3/4 teaspoon baking soda
1/4 teaspoon cream of tartar (my secret ingredient)
1/4 teaspoon salt
1 cup M&Ms & extra for top
3/4-1 cup chocolate chips
Directions:
In large mixing bowl of your KitchenAid or other mixer, cream butter and sugar until light. Add vanilla and eggs and continue to beat until light and fluffy, about 3 minutes.
In separate bowl, combine flour, dry pudding mix, baking soda, cream of tartar and salt. Add slowly to creamed mixture until well incorporated.
Stir in 1 cup M&Ms and chocolate chips.
At this point you can either refrigerate dough in 2 large balls wrapped in plastic wrap or form into cookies using a small to medium cookie scoop, place on silpat or parchment lined baking sheets and place in refrigerator. Chill for at least 3 hours.
When ready to bake, preheat oven to 350 degrees. Place cookies on a room temperature cookie sheet lined with silpat or parchment paper (I just move mine from the cold cookie sheet to a room temperature one on the silpat). Press down slightly and top with extra M&Ms.
Bake 11-13 minutes depending on size of your cookie. Mine took about 12 minutes. They should be slightly brown around the edges and just starting to brown on the top. Let cool on cookie sheets on wire rack.
Store in airtight container.
Makes 2-1/2 dozen.
Note: If you want to make only a few cookies, you can freeze the rest and just take out as many cookies as you want to bake when you get that sweet craving.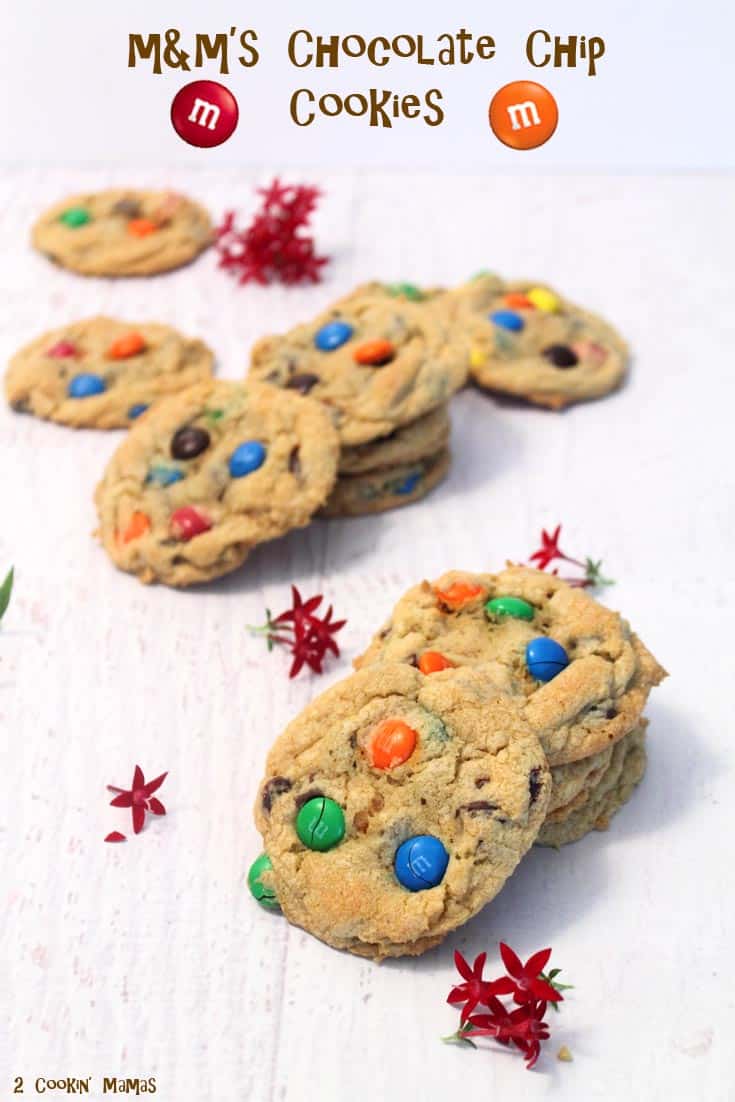 DON'T MISS A RECIPE!