Our Poblano Chicken Stew is thick, hearty and spicy. Moist rotisserie chicken, smoky charred poblanos and tomatoes are spiced up with adobo sauce to make the perfect meal served over cheesy polenta.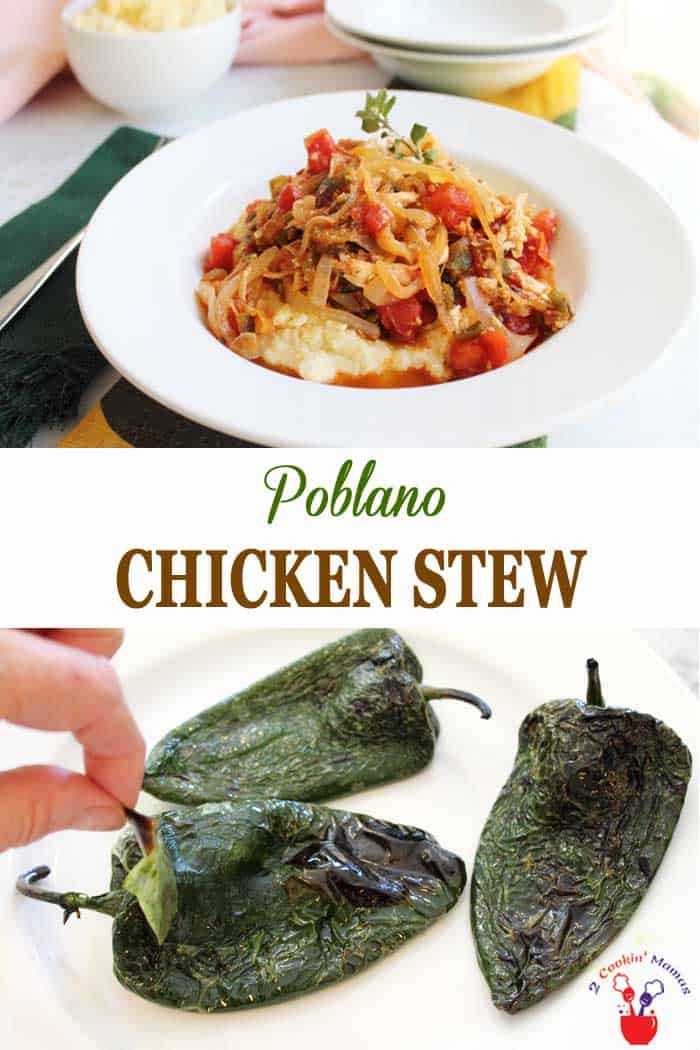 Our family is busy getting ready for a hurricane this weekend which, after living in Florida for over 30 years, we certainly know how to do. I found myself trying to figure out what to cook ahead of time so we could heat it up again on our side burner of our grill if, or should I say when because it always happens, we lose power.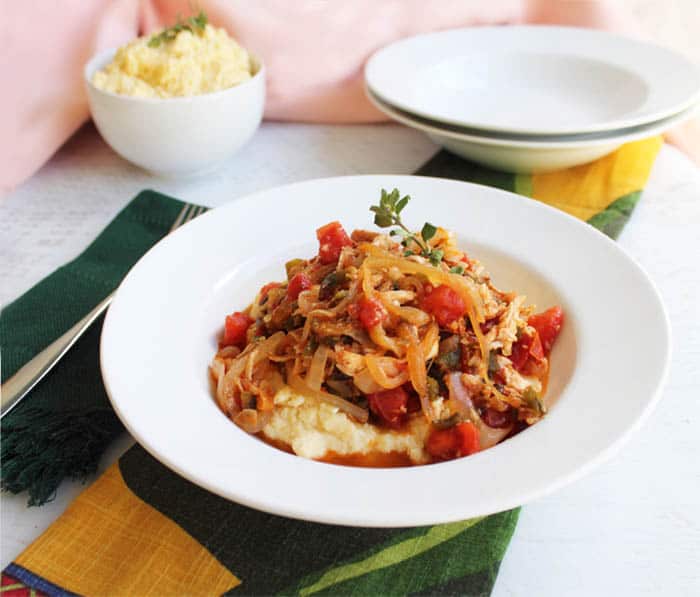 I already made my Chicken Cordon Bleu Shells and the meat for pork enchiladas and froze them so I thought how about a stew! I saw this recipe in Cooking Light magazine and loved the way it sounded – a little spicy, a little smoky, with plenty of tomatoes, onions and garlic – I was sold! Now I've got your mouth watering too, right? I changed it up a little but it is basically the same. If you like hearty, spicy stews than this one is definitely for you!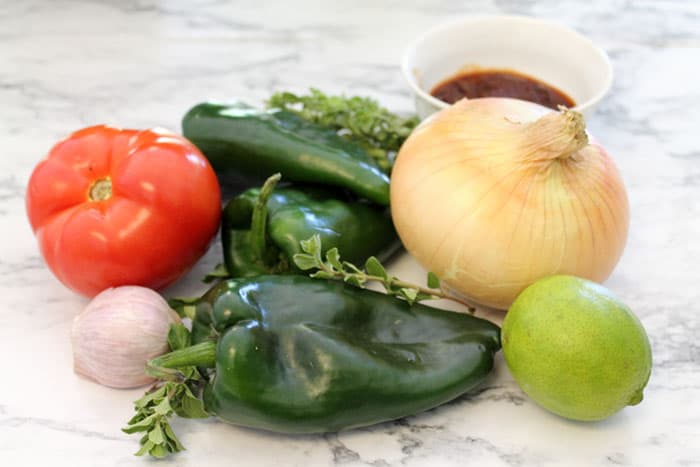 Start with charring the poblanos. It's easier than it sounds. Just place poblanos that have been coated with olive oil on a piece of aluminum foil. Place under broiler and char on each side. It usually takes bout 10 minutes. Remove from oven and wrap in same foil for 10 minutes. This lets the peppers steam and makes the removal of the skin very easy.
Peel off the skin and chop. Set aside.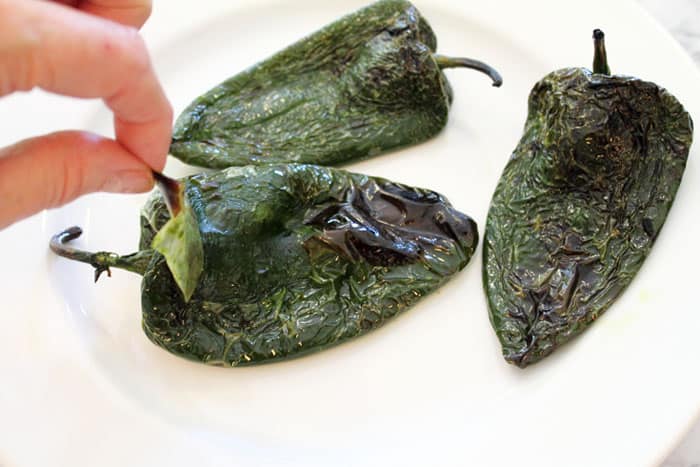 Next brown onions and garlic in olive oil.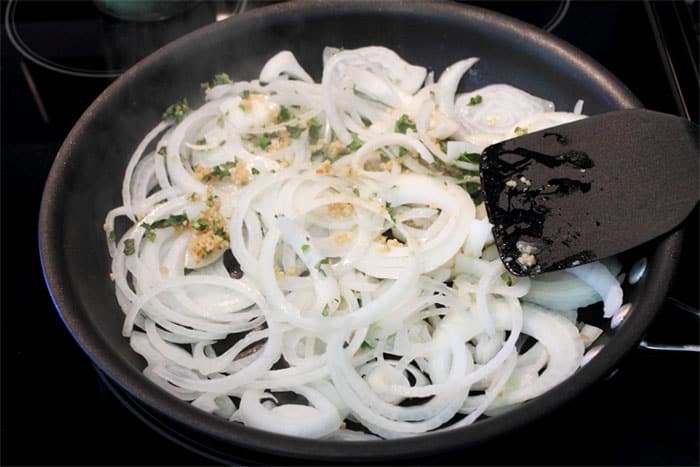 Add tomatoes, chicken stock and adobo sauce.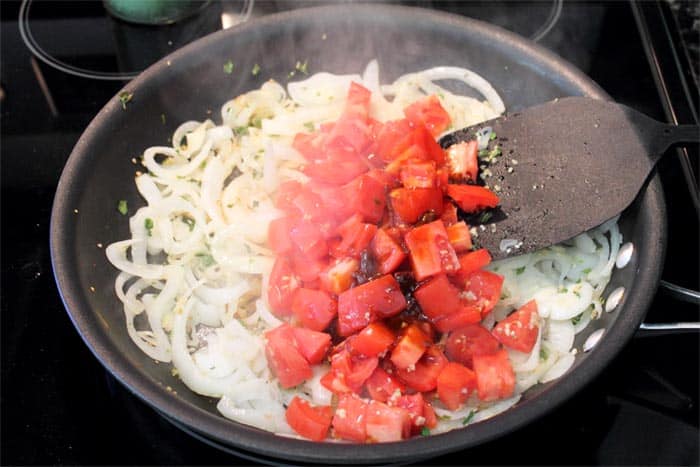 Stir in poblano peppers, shredded chicken and lime juice.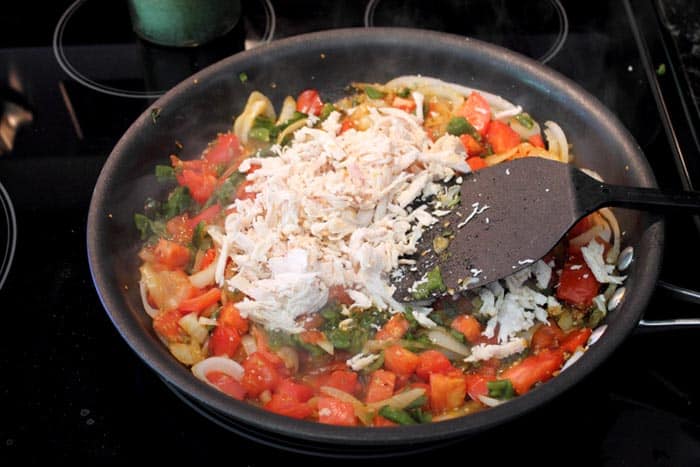 Just look at all that deliciousness! The extra chicken broth I added makes it a little more saucy and so much better when served over cheesy polenta.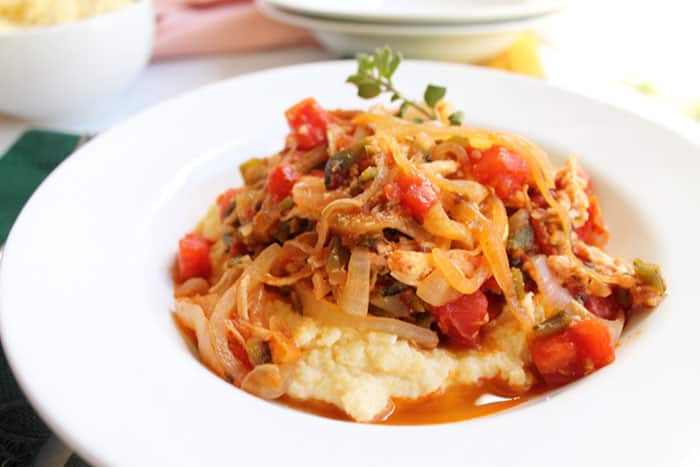 Now take a bite! Yum!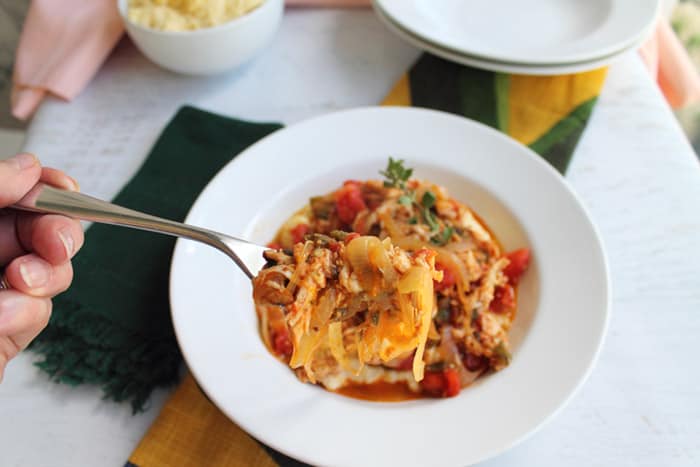 Enjoy!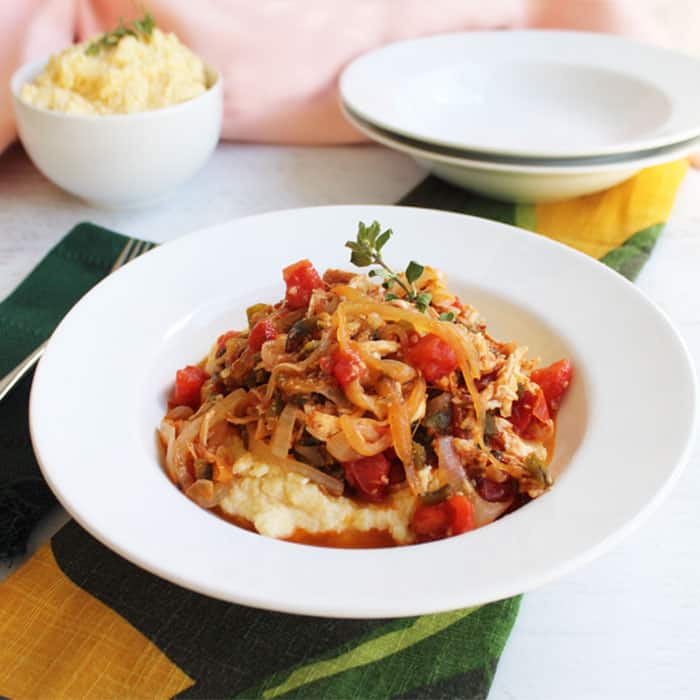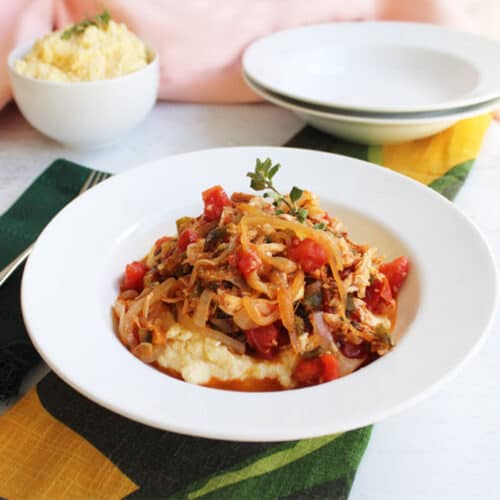 POBLANO CHICKEN STEW
Poblano Chicken Stew is thick, hearty & spicy. Rotisserie chicken & smoky poblanos, spiced up with adobo sauce, make the perfect meal with cheesy polenta.
Ingredients
3

poblano peppers

3

Tablespoons

olive oil

2

cups

onions, thinly sliced

4

teaspoons

minced garlic

2

Tablespoons

fresh oregano

3

cups

tomato, chopped

1

cup

chicken stick

2

Tablespoons

adobo sauce

1/2

teaspoon

salt

2

Tablespoons

fresh lime juice

1-1/2

cups

rotisserie chicken, shredded
Directions
Place the poblano peppers on a large piece of tin foil. Rub them with 1 tablespoon olive oil then place under a broiler set to high for 10 minutes, turning occasionally, until they are blackened.

Remove peppers from oven and wrap tightly in the foil. Let sit for 10 minutes. The blistered skin should peel off easily.

Seed and chop the peppers.

In a large skillet, heat 2 tablespoons olive oil.

Saute onions, garlic and oregano for about 3 minutes.

Add chopped tomatoes, chicken stock, adobo sauce and salt and continue to cook, stirring often for 4-5 minutes.

Stir in chopped poblano peppers, lime juice and rotisserie chicken.

Cook until chicken is heated through, about 4 minutes.
Recipe Notes
Adapted from recipe found in Cooking Light magazine.

DON'T MISS A RECIPE!