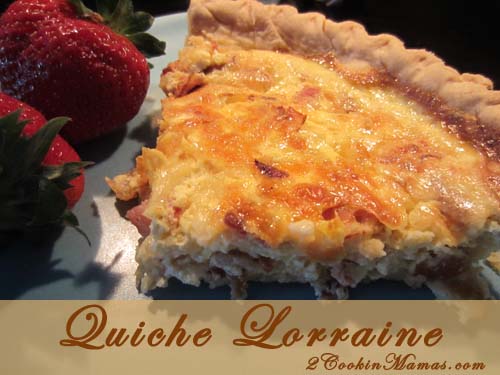 This recipe was given to me by my Mother-in-Law and has been a favorite in the family for years. Usually, I decide to use this recipe when I have leftover ham in the refrigerator. It can be made ahead of time, and since it makes 2 quiches, you can place one in the freezer for future use and one can easily be reheated for dinner.
Quiche Lorraine
Ingredients:
1/4 lb. bacon, cooked until crisp
1 Tablespoon butter
½ cup onion, chopped
5 eggs
2 cups cream
1 teaspoon salt
¾ lb. Swiss cheese, grated
1 lb. ham, chopped fine or grated
¼ teaspoon cayenne pepper
½ teaspoon nutmeg
2 9″ deep dish pie crusts
Directions:
Preheat oven to 450 degrees.
Melt butter in sauté pan and add onion, cooking until translucent, approximately 5 minutes. Set aside.
Mix eggs, cream, salt, swiss cheese, ham, onion and crumbled bacon together. Add cayenne and nutmeg.
Pour mixture into pie crusts. Bake for 10 minutes at 450 degrees then turn down heat to 325 degrees and cook until firm, about 50-60 minutes. Check often to make sure that crust is not getting too brown. If it is, use foil to cover crust and continue cooking until egg mixture is set.
Cool 10 minutes to make it easier to cut. Serve in wedges with fruit and crusty bread.
Serves 6.
Bon Appétit!
You can also serve with one of these delicious muffins: