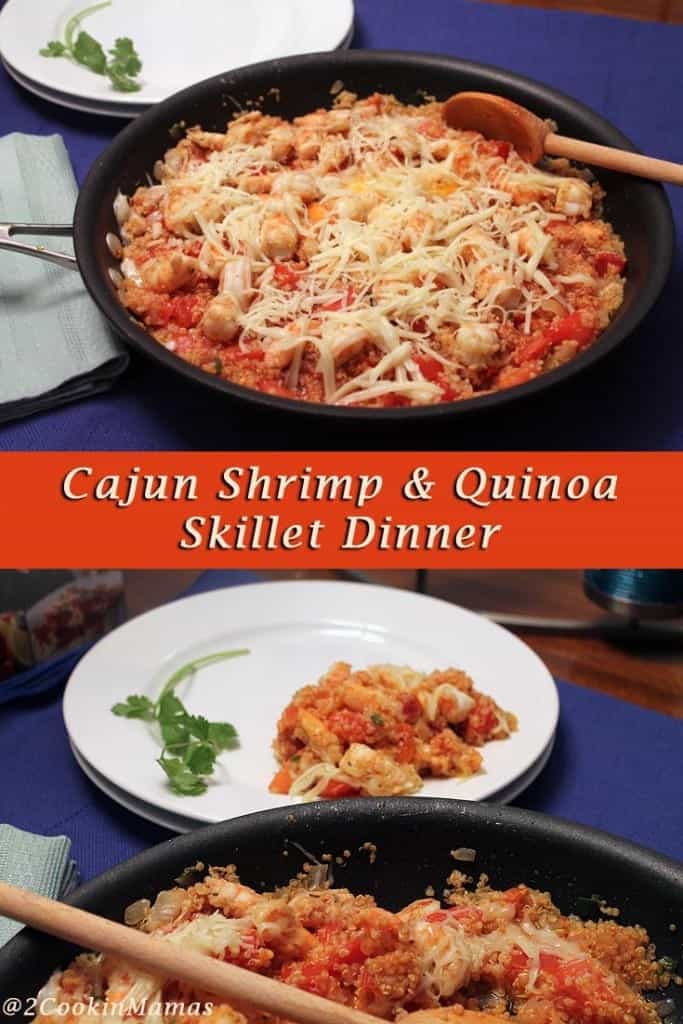 I love quick & easy dinners that are on the table fast and don't dirty too many dishes, don't you? And with school starting, this becomes even more important. After all, who wants to spend their time cooking and cleaning up in the kitchen when you can spend the time talking to your kids about their day at school and helping out with homework. And you get more me time when the kids go to bed. Yay!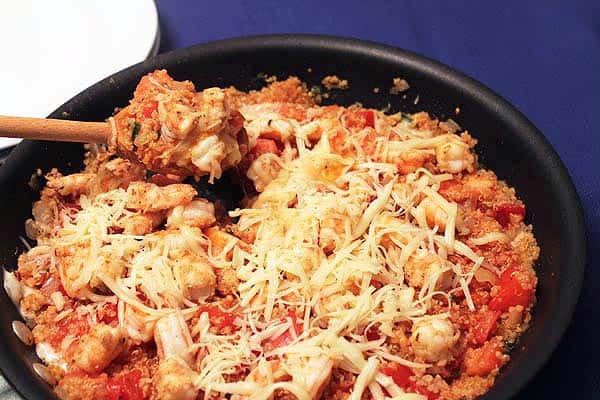 This recipe is such an easy and tasty dish and makes an excellent addition to your weekly meal plan. And it's extremely healthy too! Did you know that quinoa is the only plant-based full protein? Yep! But what exactly does that mean to you and your family's diet? Well, it means you are getting your protein without all the fat that you would get from your meat proteins. Quinoa also has tons of fiber, which helps lower cholesterol, and high levels of antioxidants that reduce the risks of certain cancers. Sound good?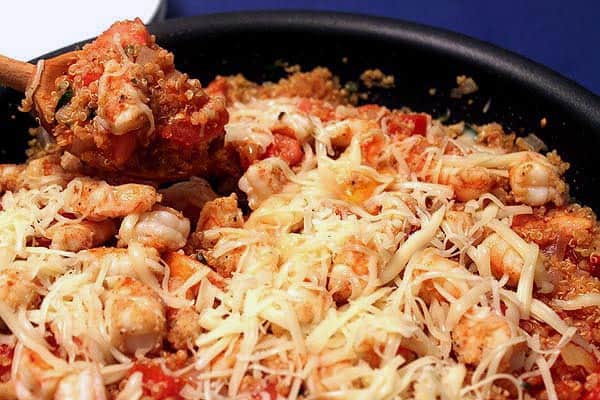 Now combine that with the shrimp, known for being low in calories, high in protein (with only 1 gram of saturated fat) and providing high levels of the mineral, selenium, which improves the immune system and you are batting 1000. Now add tomatoes to the mix, rich in antioxidants and vitamins C & E, and you have a well rounded complete dinner you can be proud to serve to your family.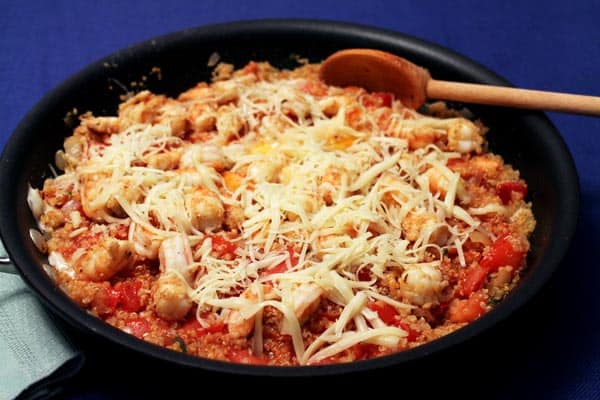 Want it on the table  even faster? I prepare a couple of batches of quinoa ahead of time on the weekend and shave off the 15-20 minutes it usually takes to prepare. And cooked quinoa turns into so many quick turn-a-round dishes for the week. I add it to lunch salads, pat into quinoa cakes or mix with kale for nutritious side dishes or throw into quick one-skillet dinners like this one.
Enjoy!
Cajun Shrimp and Quinoa Skillet
Ingredients:
1 cup quinoa
1 lb large shrimp, peeled and deveined
3-1/2 teaspoons Emeril's cajun seasoning, divided
3 Tablespoons olive oil, divided
1/2 cup sweet onion, chopped
2 cloves garlic, minced (or 1 teaspoon prepared minced garlic)
1 jalapeno, seeded and chopped
1 Tablespoon tomato paste
4 medium tomatoes, chopped
Salt and pepper to taste
1 cup fontina cheese, shredded
Directions:
Place quinoa in large saucepan with 2 cups chicken stock, vegetable stock or water. Bring to a boil, lower heat, cover and cook for 15 minutes. Fluff with fork and set aside.
Preheat oven to 350 degrees.
In a medium bowl, mix the shrimp and 2 teaspoons cajun seasoning together.
In another medium bowl, toss tomatoes with 1 tablespoon olive oil and 1 teaspoon cajun seasoning.
In a large cast iron or oven-proof skillet, heat 1 tablespoon olive oil over medium-high heat. Cook the shrimp for approximately 2-3 minutes per side or until pink and opaque. Remove shrimp to a bowl and keep warm.
Add remaining olive oil to the skillet and cook onion, garlic and jalapeno until onion is translucent, stirring frequently. Stir in the cooked quinoa, tomato paste, remaining Cajun seasoning, chopped tomato and shrimp. Season with salt & pepper. Sprinkle top with shredded fontina cheese.
Place in preheated oven and bake for 15 minutes. For a browner, crisper top, place under broiler for last 2 minutes.
Remove from oven and serve immediately.
Serves 4.
Note: You can also sub orzo or penne for the quinoa if you prefer.
What is your favorite quinoa dish? Leave us a comment below, we would love to hear from you.
**Be sure to follow us on your favorite social media! Instagram, Pinterest, Twitter and Facebook. And remember, if you make one of 2 Cookin' Mamas recipes, tag us with the hashtag #mamacooks! and we'll share it.
Your support of clicking through to visit our advertisers and/or purchasing items through our affiliate links, located throughout this post, generates the revenue that helps to keep this page going and is very much appreciated.