While my husband and I were in Grand Cayman we had a drink called the Blue Iguana, named after an endangered type of lizard found there, and it was so good that we have tried several recipes to create one just like it at home. This one was pretty close and is full of tropical flavors, but watch it because it packs a real punch!
Grand Cayman Blue Iguana Cocktail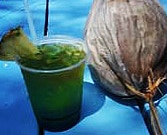 Ingredients:
1 oz. light rum
1 oz. coconut rum
1 oz. tequila
1 oz. vodka or lemon vodka
1 oz. banana liqueur
1 oz. blue curacao
6 oz. pineapple juice
Directions:
Combine all of the above ingredients then pour over ice. Garnish glass with fresh piece of pineapple.
Serves 2.
Try my Blackberry Martini for a deep blue cocktail made with fresh blackberries.
Find even more easy cocktail recipes here on 2CM!

This post has been updated and was first published on September 17, 2013.