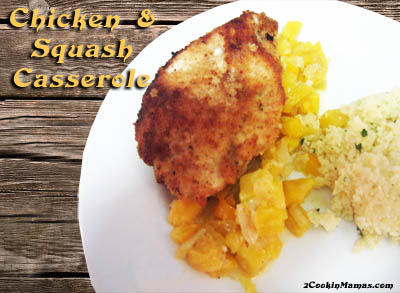 Check out this easy Sunday Supper. A casserole with your chicken and veggies all rolled into one. It's healthy, with squash a satisfying substitute for potatoes without all the calories, and full of vitamins, minerals and 9 grams of fiber, as well as filling. Along with chicken, it is a low calorie, low fat meal.
Chicken and Squash Casserole
Ingredients:
3 Tablespoons olive oil
1 cup diced acorn squash
1 green/red or yellow bell pepper, diced
1 small onion, finely diced
2 stalks celery, chopped
salt and pepper to taste
2 large or 4 small boneless chicken breasts
3 ounces Cheddar cheese, shredded (or use Manchego for a cow dairy-free option)
½ cups flour (or a gluten-free all-purpose flour)
Directions:
Preheat oven to 350 degrees. Prepare a 7×11-inch baking dish by spraying with a non-stick cooking spray.
Heat 1 tablespoon of olive oil in a medium skillet. Add squash, bell pepper, onion, celery and salt & pepper to taste then sauté for 6-8 minutes or until tender. Place in prepared baking dish and stir in cheese.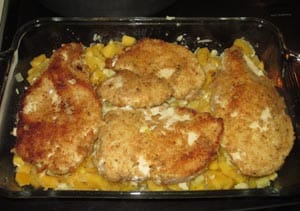 Add remaining 2 tablespoons of olive oil to skillet over medium to medium high heat. Place flour on a flat plate to make it easy to coat chicken with flour and dredge each side with flour then place in heated skillet. Brown chicken breasts, about 4-5 minutes per side then place over squash mixture in prepared pan. Seal with aluminum foil and bake in oven for 30 minutes.
Serve with a side of fruit, rice or maybe a tasty Spanish quinoa.
Serves 4.
Wine Pairing: The best wine to serve is a white that is light and not too sweet such as Chardonnay, Simi Chardonnay is a nice moderate priced wine, or a Voignier.
DON'T MISS A RECIPE!