This isn't your sweet & fruity rum drink, no! Dark & Stormy is a bold cocktail made with rich & mellow dark rum, effervescent ginger beer and more than a touch of lime. Perfect any time of year.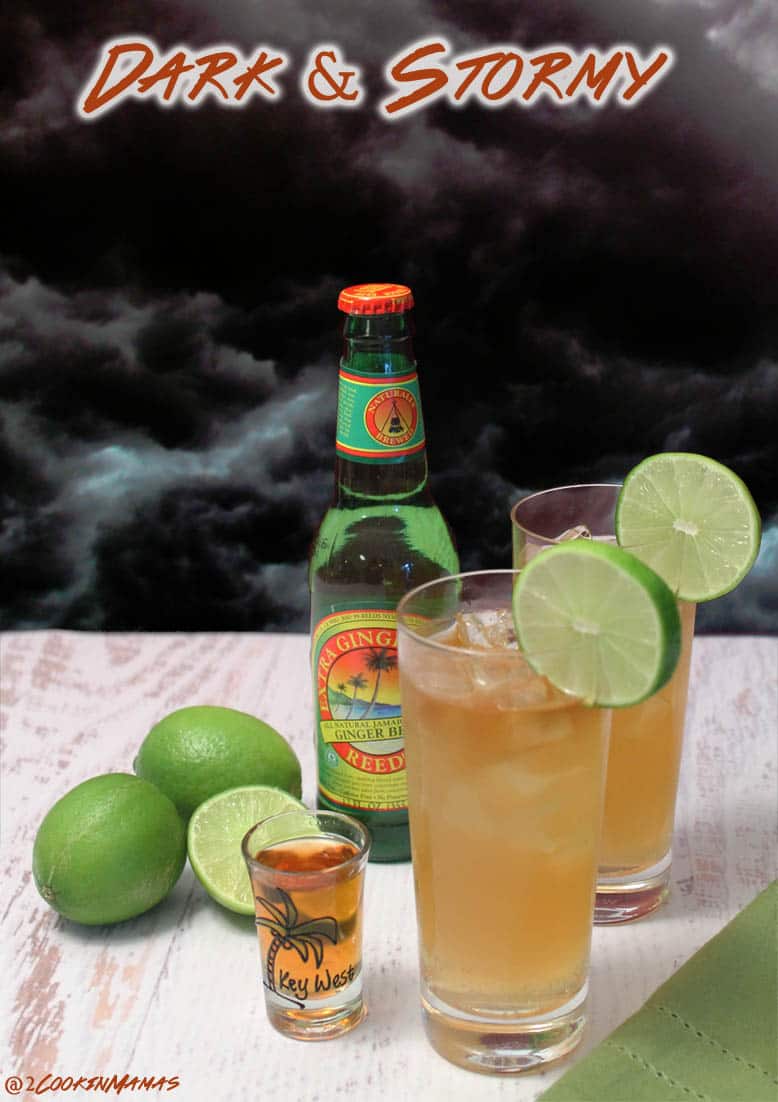 I am delighted to say that today's post is brought to you courtesy of my wonderful husband Chuck. He has such a way with words that I hope you will enjoy his tale about this Dark & Stormy cocktail as much as I did. Cherish this one as you read because I don't know how often I can persuade him to lend his time to our world of food blogging. (Maybe a few Dark & Stormy cocktails will help my cause :-)) So without further ado ...
It was a Dark & Stormy Cocktail ...
It all started a little over a week ago. My friend, Stan, the sailor, was very excited about his next trip. Stan, an accomplished sailor, was looking for adventure. What would it be? Where could he go? The Bahamas is a favorite destination with the annual Stranded Naked Cheeseburger Party in the Abacos. The Abacos are group of islands and a fishing destination where there are so many fish that some have been known to jump into the boat. Maybe he would go to Île Tintamarre off of St Maarten island where the natural hot baths cover you head to toe with restorative red clay. Perhaps he should choose to swim among the hundreds of Stingrays in Stingray City in Grand Cayman and even hold one, or two?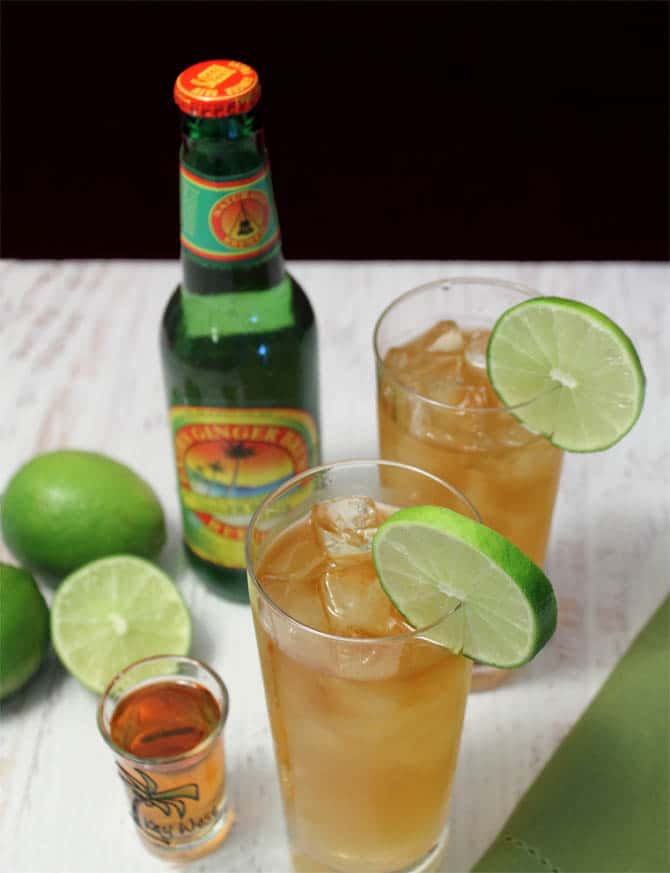 A sail for Cuban rum
No, no. It had to be much more exotic, forbidden even. The notice came suddenly. The race would leave from Miami. The destination was Cuba. Long forbidden to American citizens the race was on. The first ever sailboat race from Miami to Havana would leave soon. Stan did not hesitate, but quickly found passage to that long-forbidden island. What secrets did Havana hold? What bounty could be had? What sights could be seen?
Surviving the inclement weather for 62 arduous hours the boat arrived and the old city of Havana revealed some of its secrets. One was acquired. A previously unattainable bottle of Rum or Ron as the Cubans say, was procured. Practically indecipherable, mystical words were attached to the bottle. Ron. Santiago de Cuba. Cuna de ron ligero. Añejo.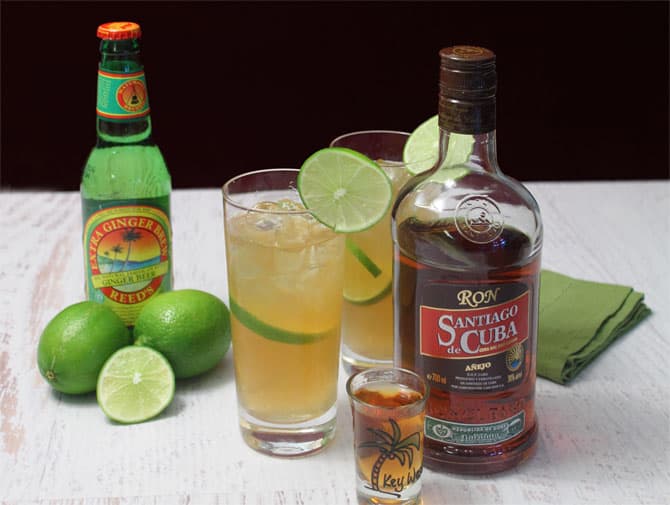 And what destiny did Stan intend for this invaluable bottle of provocative delights? It was a gift for me! Common rum drinks are fruity and sweet. You know them: Piña Colada, Rum Runner, Tropical Fruit Punch. They invoke the magical atmosphere of the Caribbean; mountain views, warm beach days and cool ocean breezes. I like these concoctions, but I wanted something special, something different, something intriguing. Enter Dark & Stormy. A drink with dark rum, ginger beer and more than a touch of lime. I had never tried this drink before, but now I find its appeal irresistible.
The recipe should be considered a map to your own destination. The darkness of the rum and the quality of the ginger beer will alter your final outcome. Be bold. Change the ratios of rum and ginger beer and lime juice. Try different rums. Above all, savor the adventure. I sure did. It was delicious.
More classic cocktail recipes
Martinis 3 ways - choose between the standard, a Cosmopolitan or a fruitier Strawberry Mint version.
Hurricane - a fruity tropical drink made with light and dark rums combined with orange and pineapple juices.
Raspberry Rickey - is a light vodka cocktail with the sweet taste of raspberries, a hint of lime and a little bubbly.
Love quick & easy recipes? Follow me on Instagram, Facebook, Pinterest & Twitter for all the latest recipe inspiration! Plus join my email list here and receive a free e-book.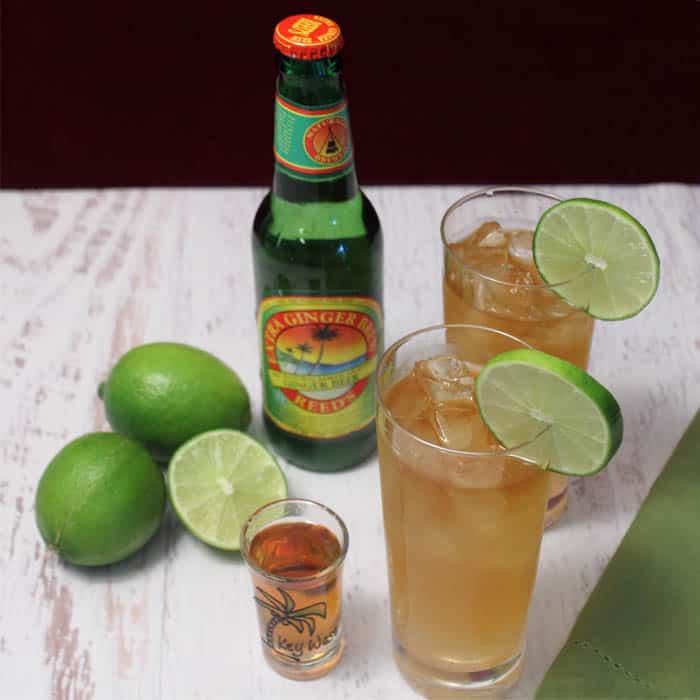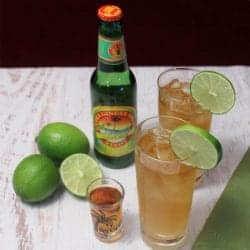 Dark and Stormy Cocktail
A bold cocktail made with rich & mellow dark rum, effervescent ginger beer and more than a touch of lime. Perfect any time of year.
Print
Rate
Ingredients
4

oz

ginger beer

(We used Reed's Ginger Brew from Trader Joes)

3

oz

dark rum

½

oz

lime juice

Garnish: slice or wedge of lime
Instructions
Fill a tall glass with ice then add all ingredients and stir. Garnish with lime.
Nutrition
Calories:
239
kcal
|
Carbohydrates:
11
g
|
Protein:
1
g
|
Fat:
1
g
|
Sodium:
9
mg
|
Sugar:
10
g
|
Vitamin C:
4
mg
|
Iron:
1
mg