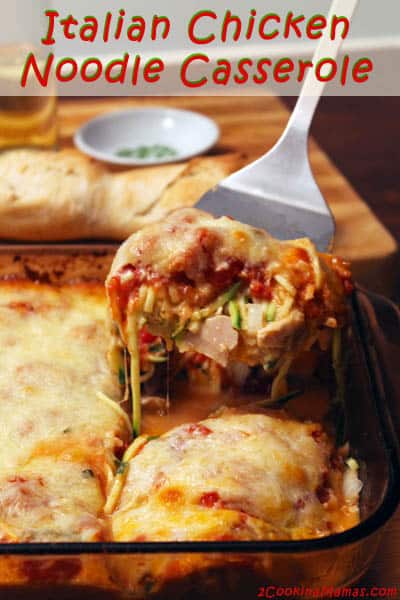 OK, I really wanted to call this Chicken Zoodle Casserole but some people may not know what zoodles are. What! Well there probably are a few out there, right? In fact, you can actually make this casserole with spaghetti noodles (hence the noodle reference) but I try to go the more healthy route since my husband and I are watching our diets.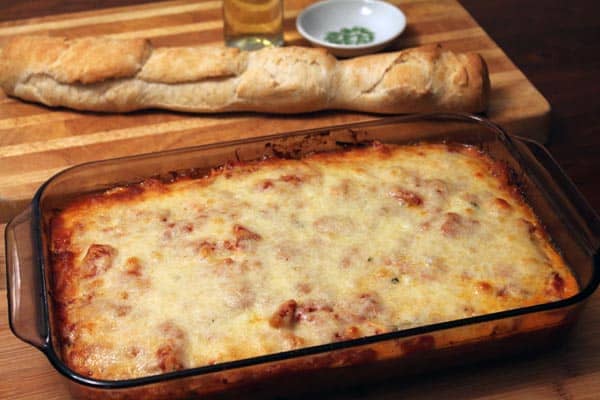 I actually saw this recipe first in our local supermarket flyer where they used ground beef and spaghetti. I adapted it to make it a little healthier by exchanging rotisserie chicken for the beef and zucchini noodles for the pasta. Except for making the zucchini noodles, which is super easy with a mandolin, the recipe came together quickly and, when served with a side salad and a loaf of whole grain crusty bread, made a healthy and very tasty dinner.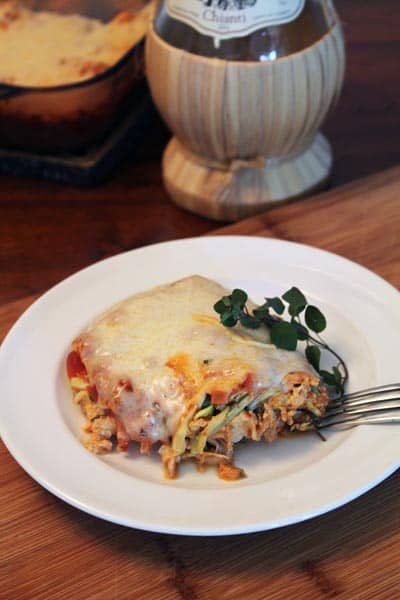 You can also make it the night before and cook it when you get home from work or make it and freeze it in portions to use for lunches or nights when you just don't feel like cooking.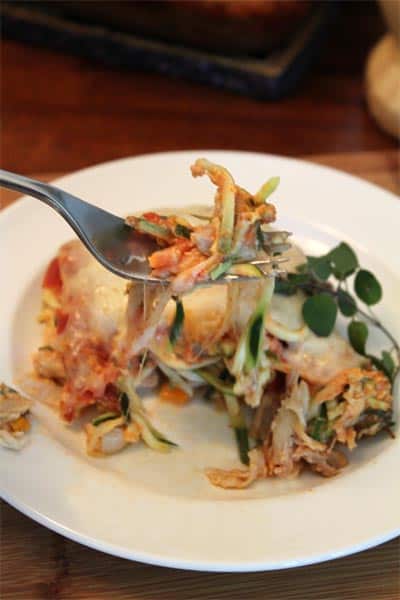 Buon Appetito!
Italian Chicken Noodle Casserole
Ingredients:
2 organic zucchini (or 8-oz spaghetti pasta)
1 rotisserie chicken, chopped (or any 1-lb cooked chicken)
1 cup onion, chopped
1/2 cup red, orange or yellow bell pepper, chopped
3 eggs
1 Tablespoon fresh oregano, chopped (or 1 teaspoon dried)
1/2 teaspoon garlic powder
1 teaspoon salt
2-1/2 cups Sargento 6 Italian Cheese Blend
1 24-oz jar favorite pasta sauce (I like the tomato basil flavor)
Directions:
Prepare zoodles (zucchini noodles) by first washing the zucchini well. At this point, you can either leave the peel on (only if organic) or peel if not. Cut off each end of the zucchini. Using the thin blade on your mandolin, run the zucchini lengthwise over the blades. When you get close to the seeds, turn the zucchini over and repeat on other side. Do not use the seeded part as the noodles will not hold together.
Place the noodles in a colander to dry out and let them sit for about 15 minutes. Then wrap in paper towel and squeeze lightly to get out as much moisture as possible. Now we are ready to use them in our dish.
Preheat oven to 400 degrees. Spray a 13×9-inch casserole dish with non-stick spray.
In a large bowl, combine chicken, onion, peppers, 1 egg and seasonings. Mix well then spread in prepared casserole dish.
Rinse bowl, then whisk remaining 2 eggs and combine with zoodles and 1-1/2 cups cheese. Spread mixture over chicken mixture in casserole dish.
Pour sauce over everything then top with remaining cheese.
Bake for 30-35 minutes, a little longer if it has been in the refrigerator, or until cheese is bubbling and brown. Let stand 5-10 minutes to make it easier to serve.
Serves 6-8.
Follow us for more delicious recipes delivered right to your inbox and be the first to know about any giveaways or contests. Click here and never miss another recipe!

Check out these recipes for more main meal deliciousness!
**Be sure to follow us on your favorite social media! Instagram, Pinterest, Twitter and Facebook. And remember, if you make one of 2 Cookin' Mamas recipes, tag us with the hashtag #mamacooks!