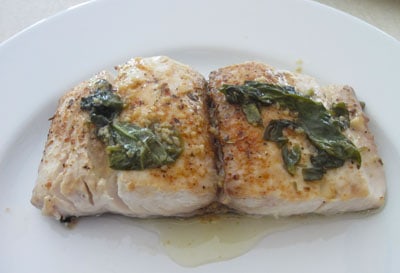 Fish is a healthy and delicious way to give your body the protein it needs without all the fat. Fish is filled with omega-3 fatty acids that keep our heart and brain healthy as well as important vitamins such as D and B2. It is also a great source of calcium, phosphorus and minerals, such as iron, zinc, iodine, magnesium, and potassium. All that in a little piece of fish!
Today is a great time to start eating one of your two recommended servings of fish a week to help you on your way to a healthy diet.
Grilled Mahi Mahi with Basil Butter
Ingredients:
2 6-oz. mahi-mahi fillets
1/4-1/2 teaspoon Cajun seasoning
1 Tablespoon butter, 1 Tablespoon olive oil (cuts a little of the fat)
1/2 teaspoon lemon juice
1/2 teaspoon minced garlic
1/8 teaspoon salt
1/8 teaspoon ground black pepper
1 Tablespoon fresh basil leaves, chopped
Directions:
Preheat grill. Prepare a grill pan by spraying with nonstick spray.
I like to purchase the fillets that still have the skin on one side. This helps hold this delicate fish together on the grill. Sprinkle fish with a light coating of cajun seasoning and place flesh side down on hot grill. Cook 4 minutes on flesh side, turn, and cook 4-6 minutes, skin-side down, or until fish flakes easily with fork.
While fish is cooking, combine butter, oil and remaining ingredients in a small saucepan. Cook over medium heat until butter has melted then turn heat to low and keep warm until fish is done.
To serve, place fish on platter and top with some of the basil butter. Garnish with slices of lemon and a sprig of basil.
Serves 2.
Tip: Serve with steamed broccoli as the basil butter makes a delicious topping for this as well.
Wine Pairing: Choose a light white wine for this delicate, flaky fish so as not to overwhelm the dish itself such as a Sauvignon Blanc, Chenin blanc or Pinot Grigio. You might also try an unoaked Chardonnay as these are much lighter than their oaked counterparts.