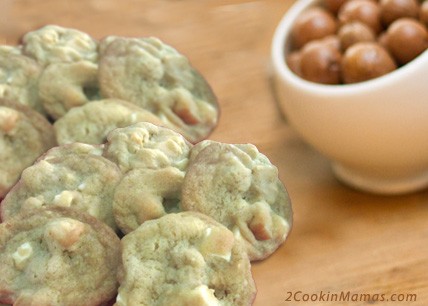 It's White Chocolate Day! And yes, they do actually have a day set aside for white chocolate. I like white chocolate but am not as fond of it as of dark chocolate but in this recipe it takes on a whole new flavor and has now become a family favorite.
I love to bake cookies, maybe because it is one of the easier things to bake or maybe because it makes the house smell so good but whatever the case (like I love to eat them) I make cookies whenever I get the chance.
These cookies have a wonderful buttery taste with big chunks of white chocolate and macadamia nuts that just put them over the top! They are definitely not on my list of diet foods but every once in a while I just have to treat myself to these little goodies.
If you get a chance to try them let me know what you think. Are they worth the few extra calories just once in awhile?
White Chocolate Macadamia Nut Cookies
Ingredients:
1/2 cup butter, softened
1/2 cup shortening
3/4 cup brown sugar, firmly packed
1/2 cup white sugar
1 large egg
1-1/2 teaspoon vanilla extract
2 cups all purpose flour
1 teaspoon baking soda
1/2 teaspoon salt
6 oz. white chocolate baking bar, cut into chunks (I use Ghiradelli White Chocolate)
7 oz. macadamia nuts, coarsely chopped
Directions:
Preheat oven to 350 degrees. Lightly grease cookie sheets.
In a large bowl, beat butter & shortening until creamy. Gradually add sugars and beat until well incorporated. Continue beating while adding the egg and vanilla extract. In a separate bowl, combine flour, baking soda & salt. Gradually add this mixture to the butter-sugar mixture and continue beating until well mixed. Stir in white chocolate chunks & macadamia nuts.
Drop by rounded teaspoonfuls 2" apart onto prepared cookie sheets. Bake for 8-10 minutes or until lightly browned. Cool slightly on cookie sheets then move to wire racks until cooled completely.
Makes 3-1/2 to 4 dozen.

Want more sweet indulgences and exclusive recipes sent right to your inbox? It's simple – just subscribe here for our weekly newsletter.