The hottest craze & coolest drinks this summer - wine slushies. Frozen cocktails that are so easy to make - combine wine, frozen fruit or sherbet, ice and blend!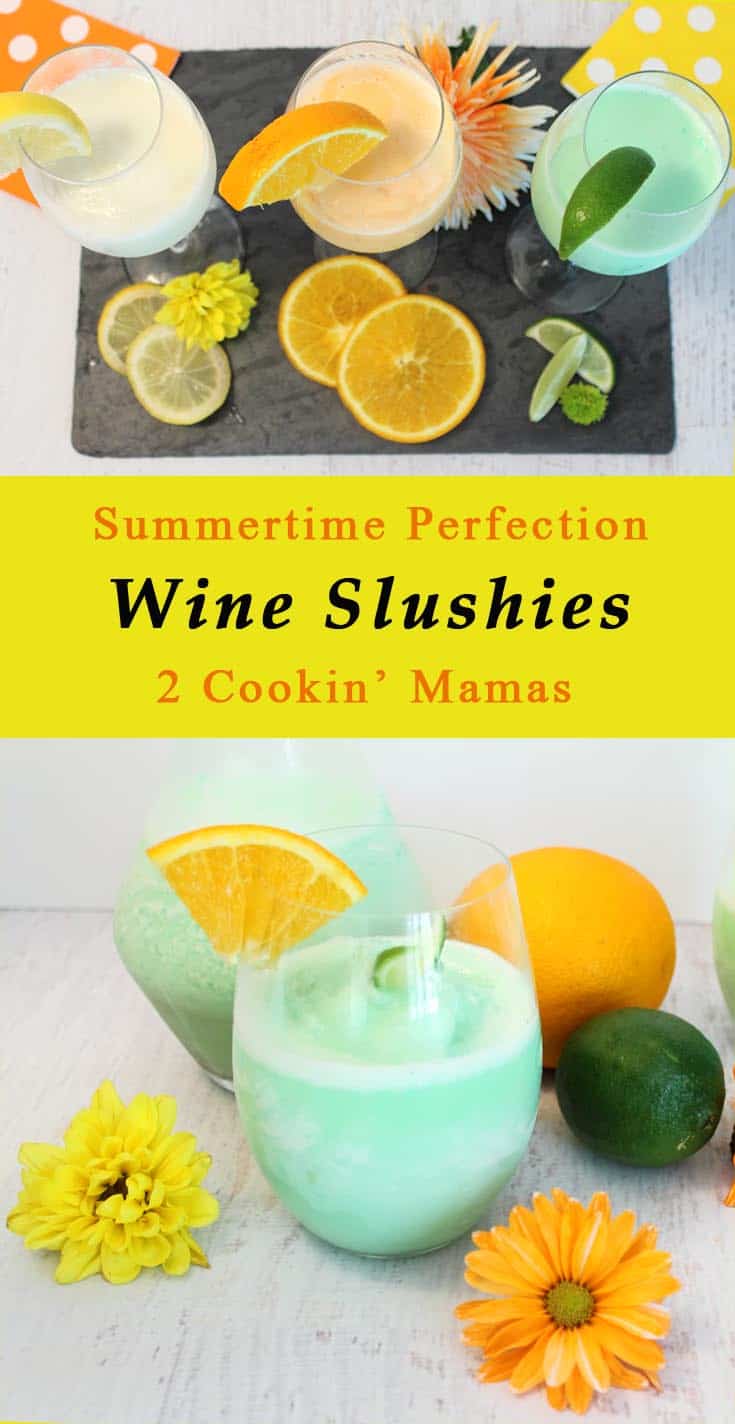 Have you heard of the new craze that is popping up all over the country, wine slushies? It was first invented by Kelly Fields, owner of Willa Jean, in New Orleans. It is kind of like a slushie that fell off the wagon! Yep, that's right! It's a frozen cocktail with wine.
Everyone is calling them wine slushies! Kelly made one called a Frose, rosé wine mixed with simple syrup, while others are adding different wines with frozen fruit and ice. So I decided why not try my hand at it and see what happens.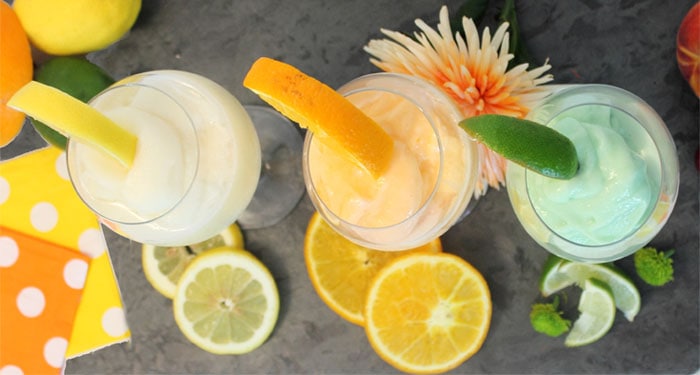 I didn't want to use a rosé in my wine slushie so I decided on pinot grigio. This wine has a little sweetness of its own so I didn't want to add any additional sugar. Then I decided to stick with one of my favorite summertime flavors, lime, to flavor the drink. And, I know this may be a little crazy but, instead of frozen limes, lime sherbet just popped into my head. And since I was using lime, like in the best margaritas, I thought a little Triple Sec would smooth out the tart edges.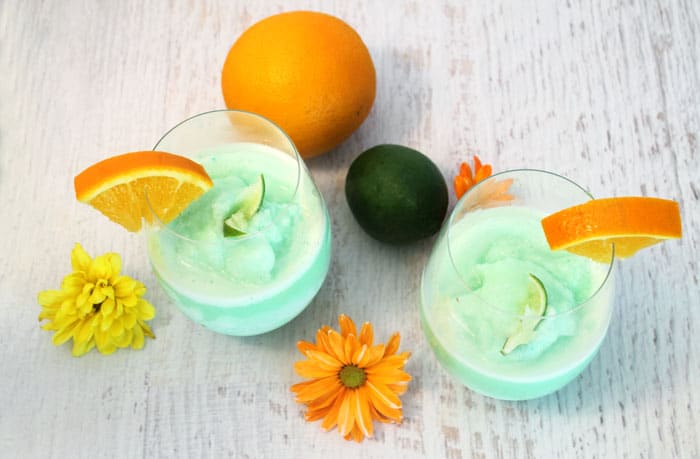 Did it work? You bet it did! Wow, sometimes I even surprise myself! It was definitely like a slushie (warning! watch out for brain freeze) and so tasty. Perfect for parties on the back porch or just an intimate tête-à-tête. You can even add a little champagne when you are ready to serve but it doesn't really need it. (Just look at that pretty cocktail - it even looks cool!)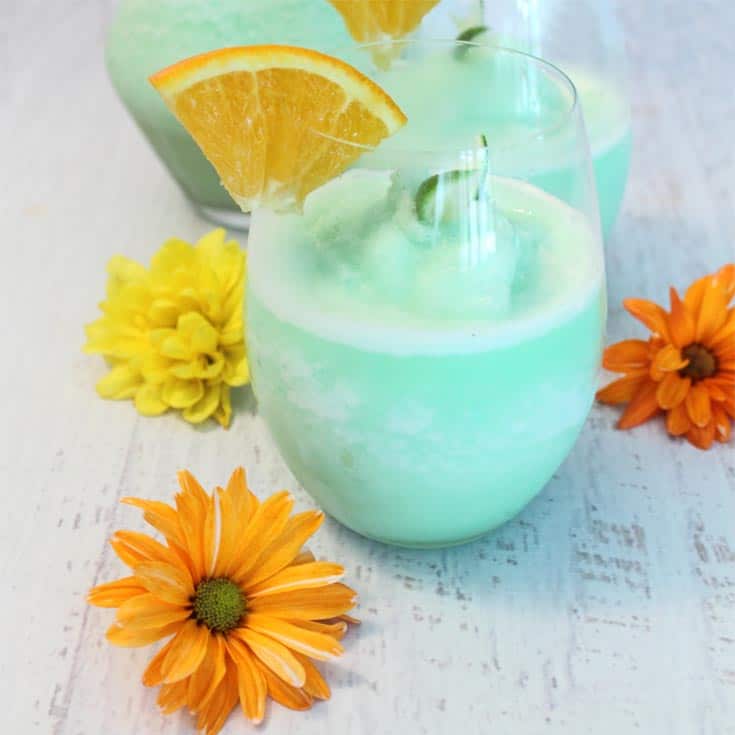 Now what to name it? Ready for this? A Frogio (get it - Fro for frozen and gio for grigio). 🙂 OK, stop laughing! It's cute right? And then I couldn't stop experimenting with other combinations and they all came out so great that it will be hard to decide which one to make again first. And I named them too, of course :-).
Now I present to you the Frodonnay, a combination of Chardonnay and lemon or pineapple sherbet and the Frobarino, a mix of Albarino and orange sherbet. They also all work great with the Pinot Grigio too! My favorite has got to be the Chardonnay and pineapple sherbet - definitely a drink for sipping by the pool. Ahh!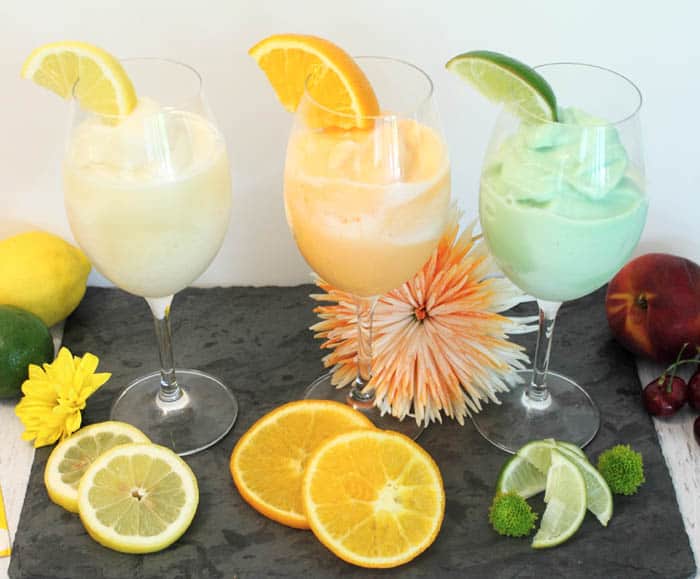 So get your blenders going and let me know what you come up with. We'll start our own SLUSHIES craze right here on 2 Cookin Mamas! Just remember the simple formula: wine + frozen fruit or sherbet/ice cream + ice. Put in blender & done!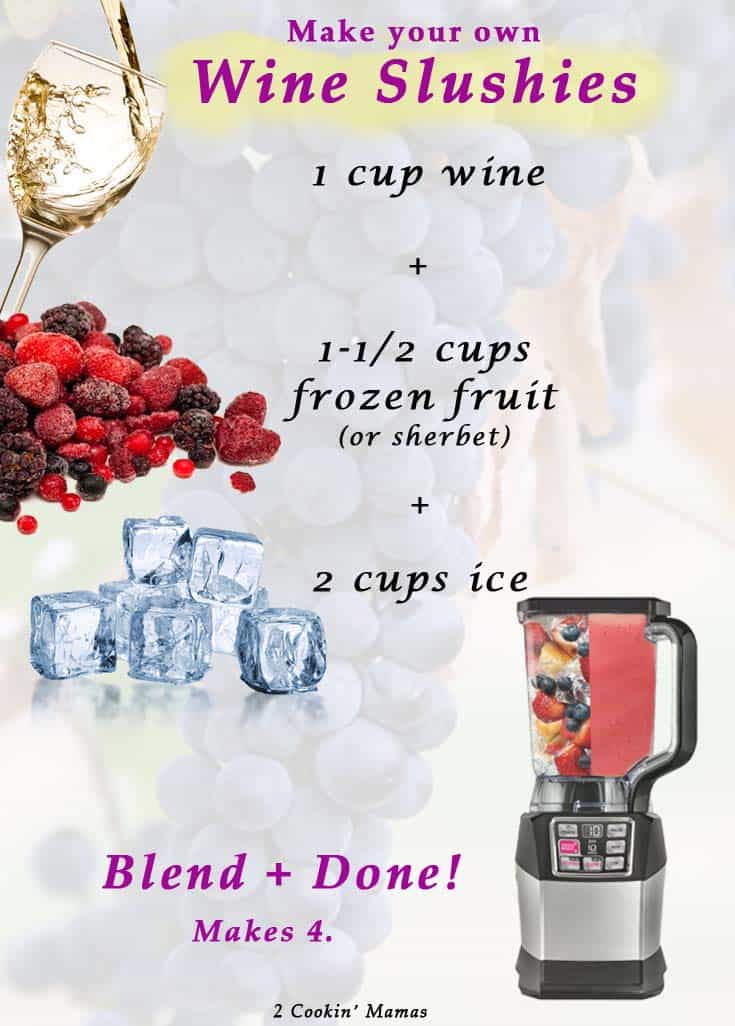 Here's a few more IDEAS to get you started:
Savignon Blanc with cantaloupe
Rose with raspberries
Champagne with peaches or oranges
Moscato with watermelon
Just keepin' it cool!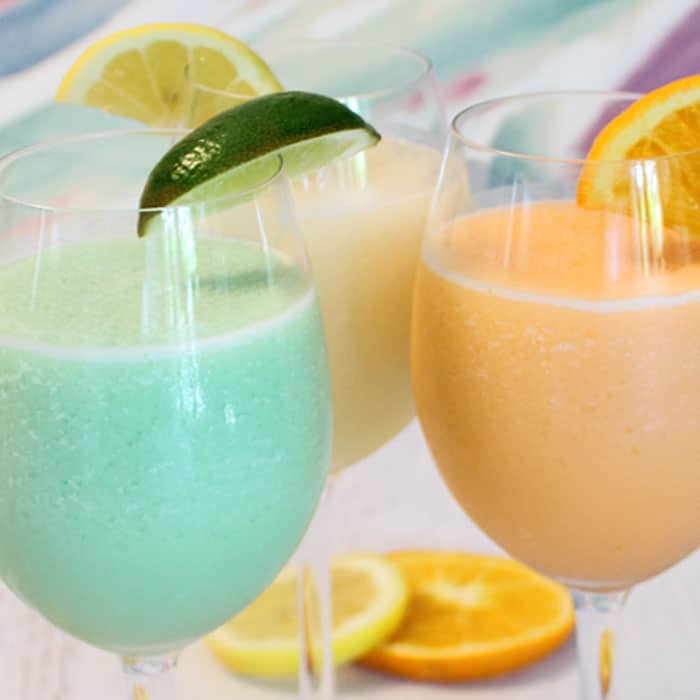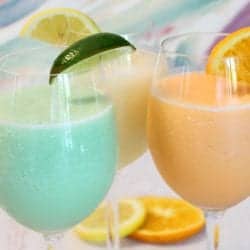 WINE SLUSHIES
The hottest craze & coolest drinks this summer - wine slushies. Frozen cocktails that are so easy to make - combine wine, frozen fruit, ice and blend!
Print
Rate
Ingredients
1

cup

pinot grigio

chardonnay, albarino or other white or blush wine

11/2

cups

lime

lemon, pineapple or orange sherbet (or opt for frozen fresh fruit)

2

oz

triple sec

(optional)

2

cups

ice

Garnish: orange slice,

lime, lemon or pineapple wedge & a sprig of mint
Instructions
Combine all ingredients in a blender. Blend until smooth.

Pour into a wine glass then garnish.
Nutrition
Calories:
385
kcal
|
Carbohydrates:
67
g
|
Protein:
2
g
|
Fat:
4
g
|
Saturated Fat:
2
g
|
Cholesterol:
2
mg
|
Sodium:
95
mg
|
Potassium:
195
mg
|
Fiber:
2
g
|
Sugar:
54
g
|
Vitamin A:
95
IU
|
Vitamin C:
4.7
mg
|
Calcium:
110
mg
|
Iron:
0.3
mg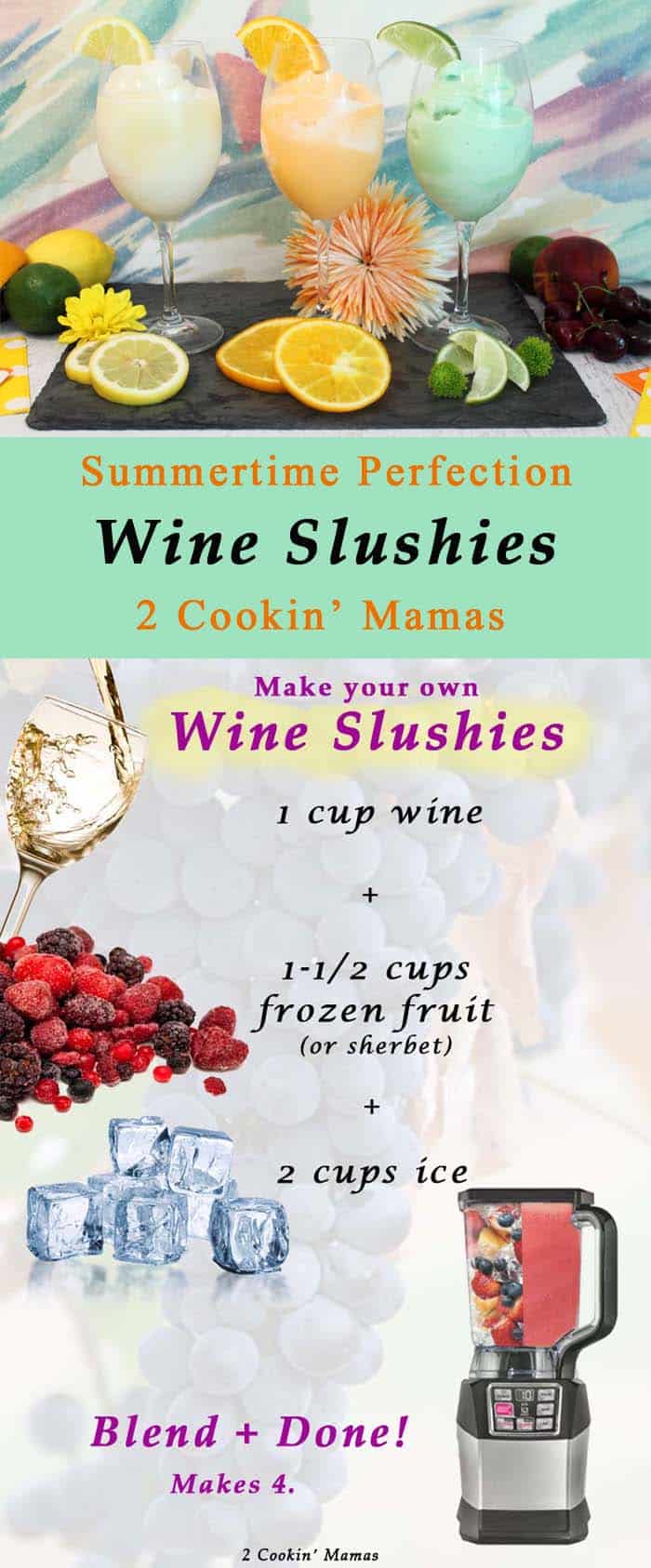 What's your favorite summer cocktail? How about a Pineapple Coconut Mojito or a Mango Pina Colada?
DON'T MISS A RECIPE!