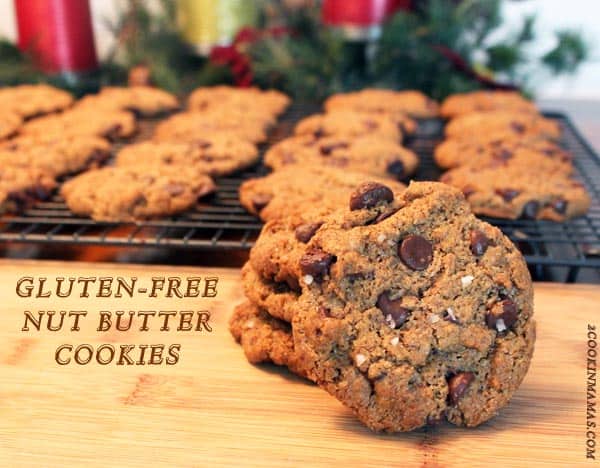 Whew! The 7 Days of Christmas Cookies is getting to be one big mouthful of sweetness!
These cookies began with a trip to the grocery store where I spied a big jar of NuttZo. What, you've never heard of it! Well, truth to tell, neither had I, but it sure looked interesting. There were 6 different types on the shelf, Original Crunchy, Original Smooth with Flax, Power Fuel Crunchy or Smooth with Chia and Crunchy or Smooth 70% Dark Chocolate. All 6 are organic with a combined seven nuts and seeds to make the butter. I chose the smooth Power Fuel which includes cashews, almonds, brazil nuts, hazelnuts, pumpkin seeds, chia seeds, flax seeds and sea salt. I am definitely going to try the chocolate one next as I think it will be a lot like Nutella but with healthier ingredients including, sigh, Peruvian dark chocolate.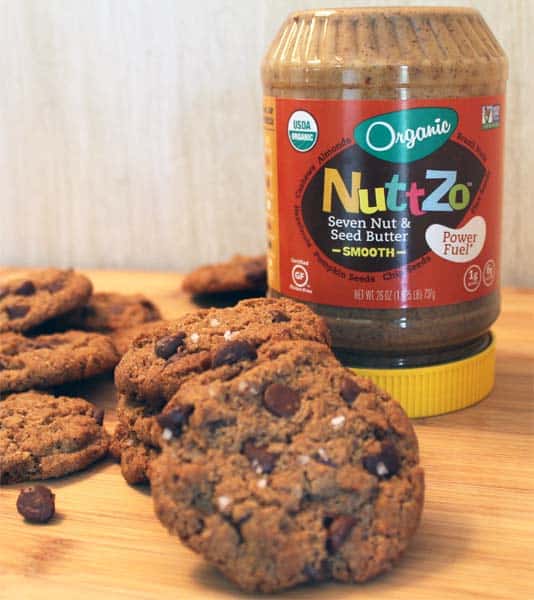 So what to do with all this healthy butter? You guessed it, make a cookie of course!
These nut butter cookies are on the order of a peanut butter cookie but oh so much more satisfying. The combination of all the nut and seed butters makes a much heartier cookie and, even better, it is flourless so is gluten-free! Yay! A perfect cookie for Christina, the other Cookin' Mama! We wouldn't want her to feel left out for Christmas now would we?!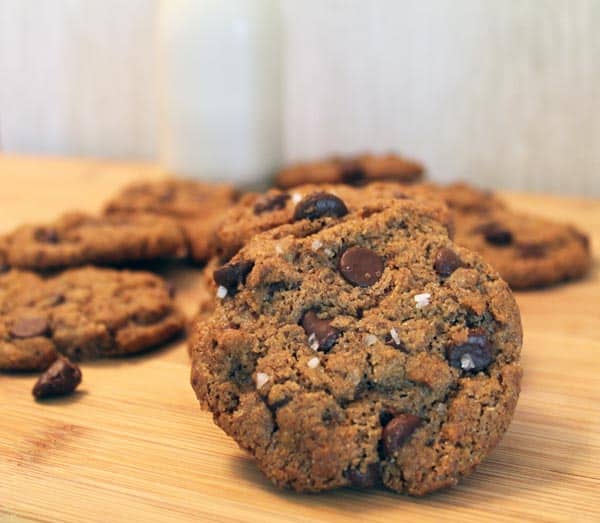 They are easy to make, once you find the NuttZo, so go ahead and enjoy and know that, even though they do have some sugar, you are giving a lot of good nutrients to the kids (and big kids too).
Nut Butter Cookies
Ingredients:
1 cup organic Nuttzo (or other organic nut butter)
½ cup light brown sugar
½ cup granulated sugar
1 egg
1 teaspoon vanilla
1 teaspoon baking soda
1 cup dark gluten-free chocolate chips
Directions:
Preheat oven to 350 degrees. Line cookie sheets with parchment paper.
In a large bowl, cream Nuttzo with sugars until smooth. Continue beating while adding egg, vanilla and baking soda. Stir in chocolate chips.
Drop by rounded teaspoonfuls onto prepared cookie sheets. using a fork flatten in one direction then in the other forming a criss-cross pattern on top of cookie.
Bake for 10-12 minutes. Cool on wire racks.
Store in airtight container.
Makes 1-½ dozen.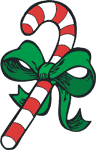 Catch up with all the sweetness with the links below. And there are more gluten-free gems on the way!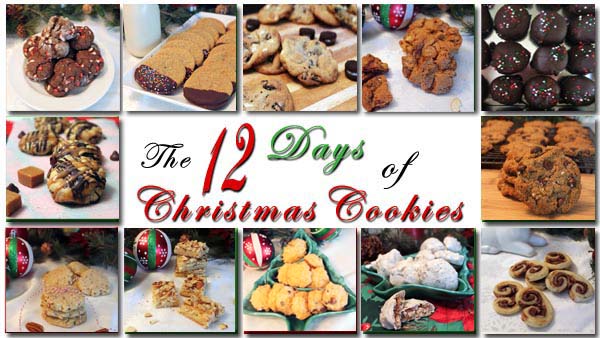 On the 12th day of Christmas this Cookin" Mama sent to you... 12 Nutella Palmiers, 11 Forget Them Cookies, 10 Sure Bet Macaroons, 9 Almond Bar Cookies, 8 Pecan Sandies, 7 NuttZo Nut Butter Cookies, 6 Turtle Cheesecake Cookies, 5 Key Lime Truffles, 4 Vanilla Almond K Cookies, 3 Cookies and Cream Cookies, 2 Creme Brulee Cookies and a Chocolate Peppermint Drop ...fa, la, la, la, la
DON'T MISS A RECIPE!