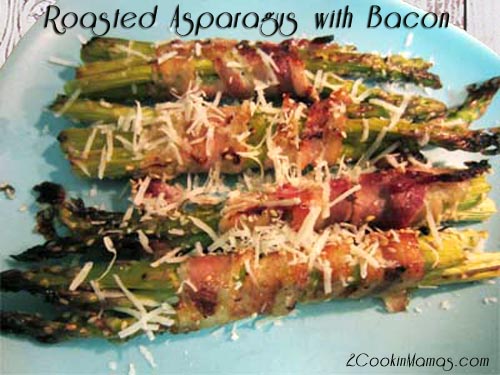 Vegetables always seem to get relegated to second place when planning a dinner menu yet, when given their due attention, inventive recipes can make vegetables the hit of the meal. I found several recipes for asparagus that were interesting so I combined several together and the result got a resounding "fantastic" from my better half. Yay! That means I can make it again whenever I like.
After all, what could make a vegetable taste better than adding bacon to it? Nada, nothing, zilch! Can you tell I like bacon? Any hoo, this recipe is easy and is perfect for everyday dinners or when guests are coming because most of the preparation can be done ahead of time and then just slip in the oven when you are ready. And it not only looks fantastic on the platter but makes serving so easy since each serving is a bundle or two.
Enjoy!
Roasted Asparagus with Bacon & Sesame Seeds
Ingredients:
24 asparagus stalks, washed and trimmed to 5"
Italian dressing
4 slices bacon, cut in half lengthwise
Sesame Seeds
Pecorino-Romano cheese (optional)
Directions:
Wash asparagus and snap or cut off the tough ends. If necessary, trim any tough outer skin with a vegetable peeler. Place asparagus in a large resealable plastic bag with enough Italian dressing to cover. Marinate in the refrigerator for 1-½ hours.
Preheat oven to 400 degrees.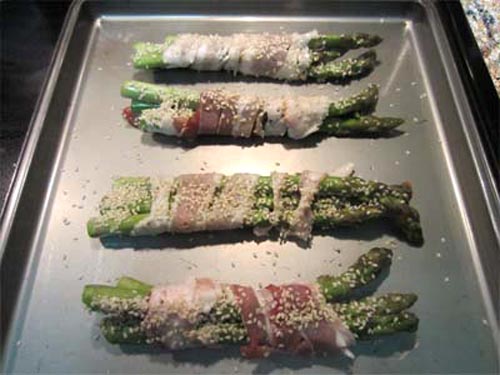 Remove asparagus from the bag and discard marinade. Wrap 3 stalks of asparagus with a strip of bacon starting from the bottom and working your way towards the top. Place on cookie sheet tucking under ends of bacon. Repeat with remaining stalks. Sprinkle generously with sesame seeds and place in oven. Bake for 25-30 minutes or until bacon is crisp. Sprinkle with cheese and serve hot.
Serves 4 – 2 bundles per person.
Make a delicious dinner with roasted chicken, bacon-wrapped asparagus, and perfect mashed potatoes with mushroom gravy for chicken.
Find even more quick and easy vegetable recipes here on 2CM!
This post has been updated and was first published on July 11, 2014.