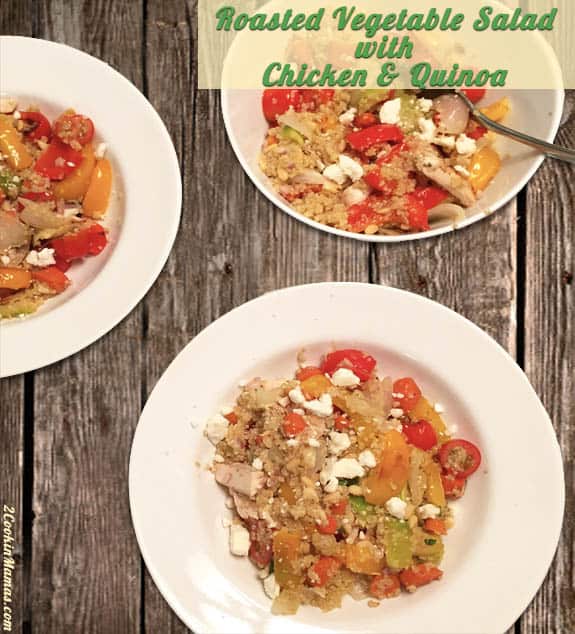 If you've never had roasted vegetables you are missing out on a way of cooking that delivers all the flavor a vegetable should have with a little added sweetness on the side. For some reason, putting vegetables in the oven brings out a sweetness that you might not taste otherwise and, because it does, you'll want to fix them this way again and again.
Plus it really is easy. You can even cut up the vegetables on the weekend so all you have to do is throw them on a cookie sheet when you get home and wait about 30 minutes. And by purchasing a rotisserie chicken, all it takes is an additional 5 minutes to cut it up and throw it on the salad. Perfect!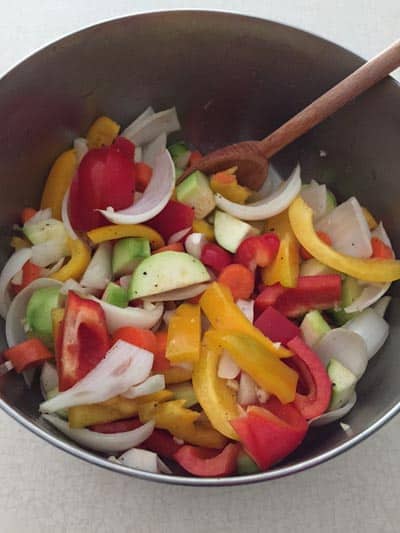 I had originally planned on just cooking vegetables with some meat on the side but I got home so late that I didn't want to fuss much with too many separate dishes. I knew I had some leftover chicken in the fridge so my mind immediately went the healthy salad route and said yummy. (Sometimes I'm good like that! :-)) Hence my healthy and delicious dinner salad you see here. It was a big hit and I know I'll be fixing it again soon.
By the way, it makes a perfect vegetarian dinner if you just leave out the chicken. The quinoa will supply all the protein you need to make it a complete, healthy meal.
Roasted Vegetable Salad with Chicken & Quinoa
Ingredients:
1 cup quinoa
1 rotisserie chicken, cut up
Roasted Vegetables
1 onion, cut in 8ths then separated
2 colorful bell peppers, sliced then cut in half (I used 1 red and 1 yellow)
1 zucchini, quartered lengthwise then sliced
4-6 carrots, sliced
4-5 cloves garlic, finely chopped
⅓ cup extra light virgin olive oil
Sprigs of rosemary, thyme or oregano (optional)
Salt & pepper, to taste
Dressing
⅓ cup lemon juice, fresh is best
⅓ cup extra light virgin olive oil
2 teaspoons fresh basil, chopped
1 teaspoon Italian seasoning
1 teaspoon salt
½ teaspoon black pepper
Salad
1 pint grape tomatoes, halved
1 scallion, finely chopped
¼ cup pine nuts
Feta cheese
Directions:
Preheat oven to 425 degrees.
Prepare vegetables. When cutting up the vegetables, make sure they are about the same size so they cook evenly. Toss all vegetables in a large bowl with the garlic, olive oil and seasonings. Pour onto a cookie sheet with sides, making sure not to crowd them. If you need to, you can use 2 cookie sheets. Place in oven and bake for 30-40 minutes, turning once half way through.
While vegetables are cooking, cook quinoa according to package directions. I usually bring 2 cups of water to a boil, add 1 cup raw quinoa, then cook covered for 15 minutes.
Place quinoa in large bowl and toss in cooked vegetables along with any juices. Pour dressing over the vegetables and let cool slightly. Add salad ingredients, except for feta, and chicken and place into individual serving dishes. Sprinkle feta on top of each serving.
Serves 4.
If you love quinoa as much as we do, here are some more yummy recipes to whip up.
We'd love to hear from you! Please leave a comment below and let us know what your favorite ways to use quinoa are at your home.
DON'T MISS A RECIPE!