Thanksgiving is all about family, friends, good times and definitely food! This 50+ Thanksgiving Recipes Roundup has dozens of recipes from my fellow food bloggers that cover everything from yummy appetizers to tempting entrees, easy side dishes to luscious desserts. Can't wait to try them all!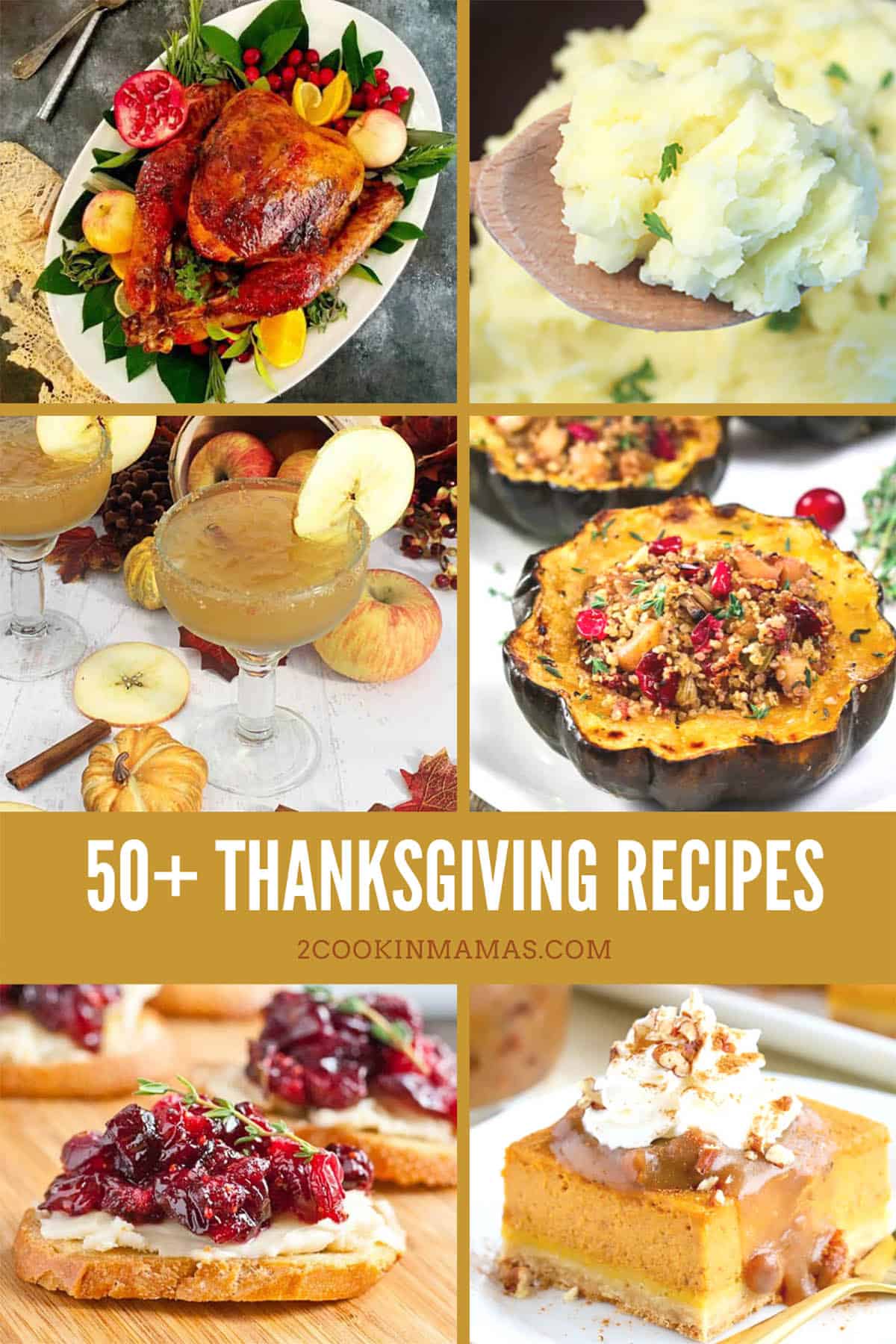 If you're wondering what to serve for Thanksgiving or just want to try something different, I've got the recipes for you. Whether you're having a crowd or just a few people, these recipe suggestions can take the stress out of planning the big meal.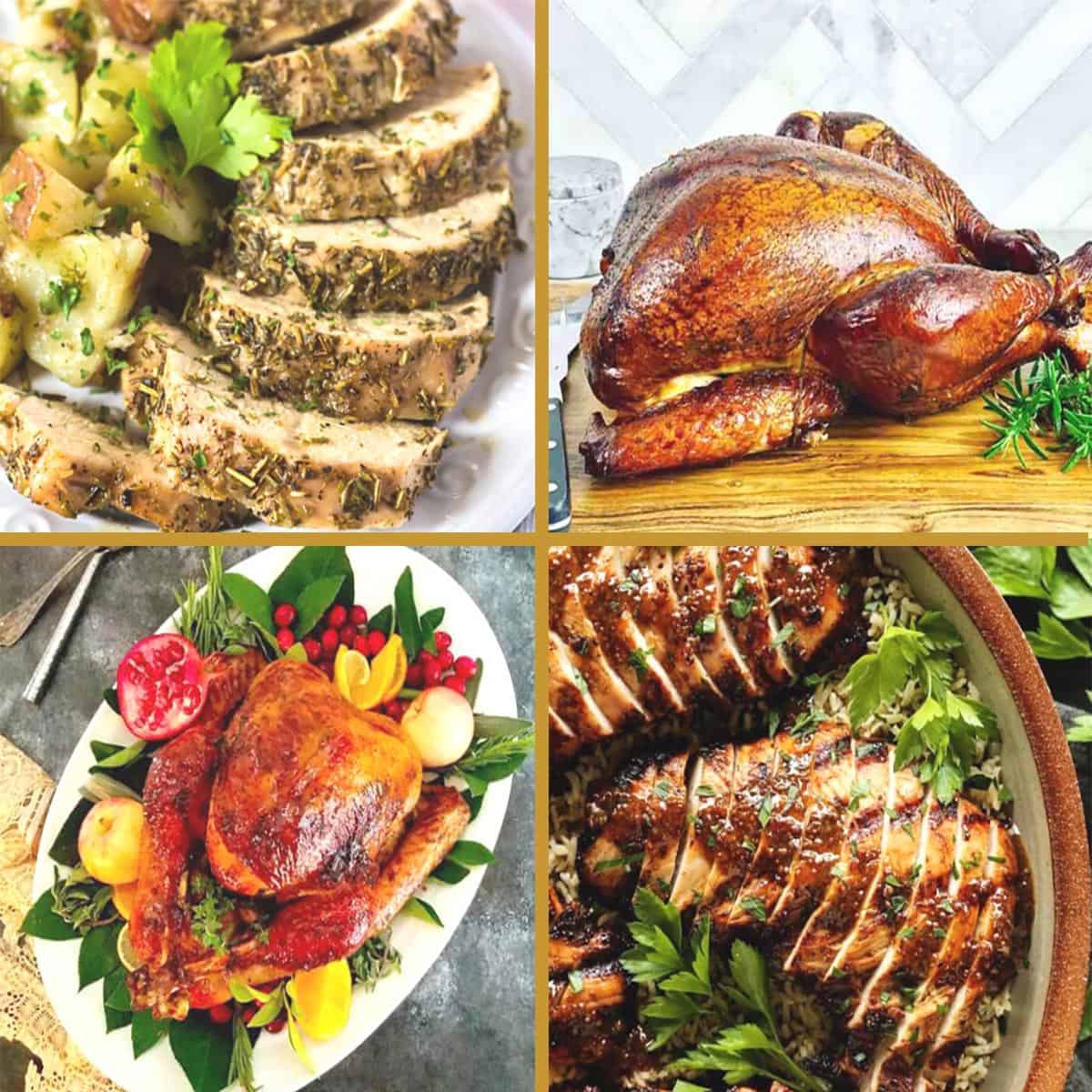 There's beverages and appetizers to start with and all sorts of ways to cook a turkey. From air fryer to grilling, roasting to rotisserie as well as turkey breast recipes for that small scale Thanksgiving. And it wouldn't be a feast without a collection of mouthwatering sides. There's the traditional stuffing and some unconventional ideas as well. Oh, and I can't forget the sweets, 'cause there's always room for dessert, right? Pies, cakes, crumbles and bread pudding made the list.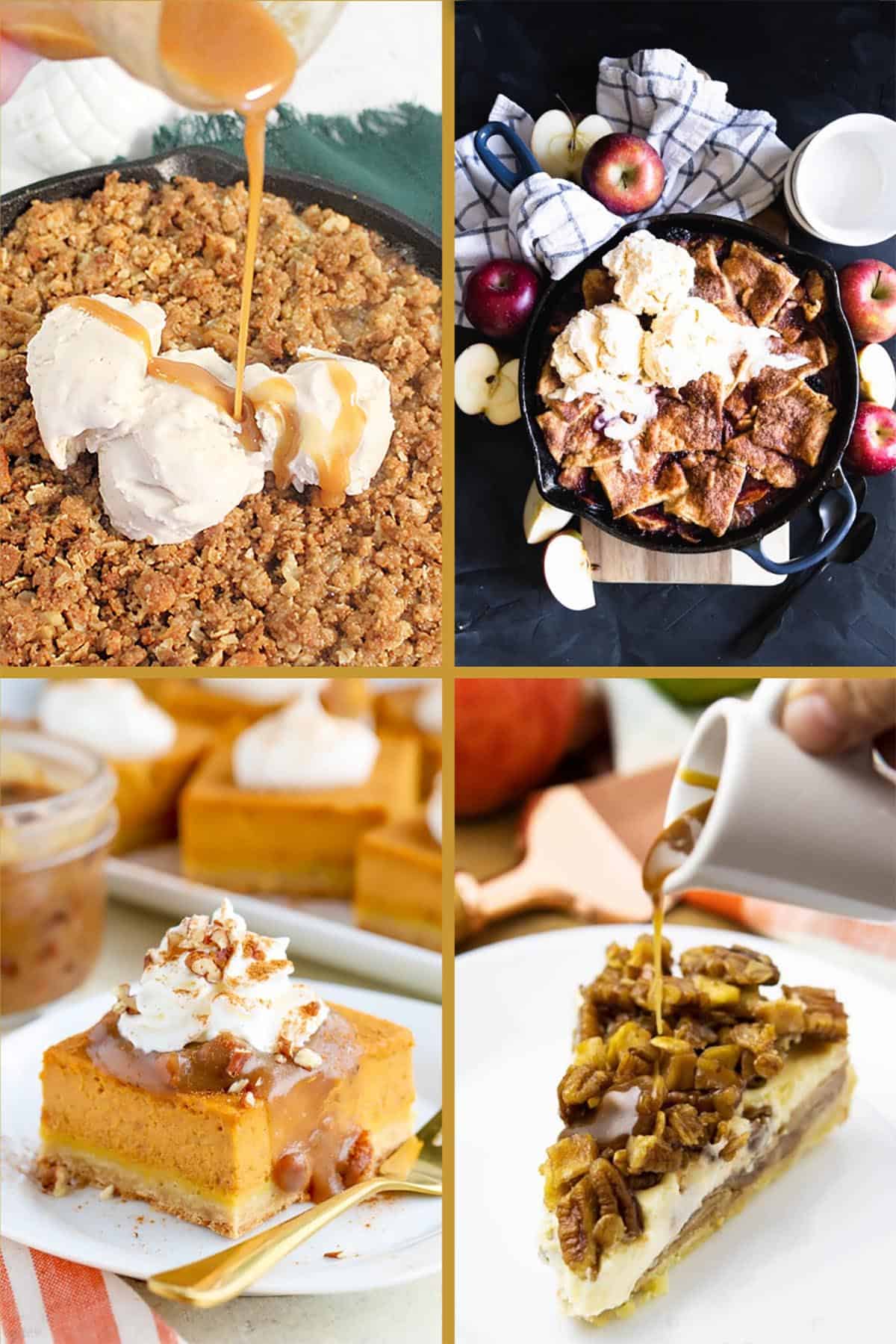 Plus, if you're still feeling unsure how to pull it all off, check out my "play by play" Thanksgiving Day Planner and enjoy the day. Happy Thanksgiving to all!
Photo Credit: petersfoodadventures.com

This smoked turkey is juicy and full of flavor. Brined overnight before being smoked in an offset smoker. A juicy and tender smoked turkey recipe, perfect for Thanksgiving or Christmas!

Photo Credit: www.easyanddelish.com

Find out how to brine and roast a whole turkey that is juicy and tender and also get great tips on how to carve it without fuss.

Photo Credit: www.plattertalk.com

Herb-roasted turkey tenderloin is an easy and affordable way to scale back your Thanksgiving dinner while still keeping it mouthwatering delicious!

I've got the secret for the easiest, moistest, most delicious Thanksgiving Turkey ever! Learn all the tips on how to cook a turkey in a bag. There's no basting, less cook time and, since it's in a bag, the cleanup is a cinch. Thanksgiving's never been this easy!

Photo Credit: bakingqueen74.co.uk

This crockpot turkey breast with a delicious spice rub is basted with butter for perfectly moist turkey. So easy!

Photo Credit: www.afarmgirlsdabbles.com

This Grilled Turkey Tenderloin with Brown Sugar and Whole Grain Mustard recipe is tender, flavorful, and easy to make! Perfect for Thanksgiving!

Photo Credit: jenniferbanz.com

Air Fryer Turkey Breast is golden roasted turkey breast, perfectly seasoned all in your hand-dandy air fryer! No mess, no fuss! Delicious, rotisserie style turkey breast in less time than your conventional oven!

Photo Credit: www.simplyhappenings.com

Slow cooker pineapple ham with pineapple juice, brown sugar, red wine, and honey. It's the best Thanksgiving ham that everyone will love!

Photo Credit: www.gritsandpinecones.com

Surprisingly easy to make, Roasted Rack of Lamb with Garlic and Herbs is an impressive, crowd-pleasing main-dish full of herbaceous deliciousness. 

Photo Credit: www.everyday-delicious.com

This turkey roulade is made from turkey breast and stuffed with roasted butternut squash, cremini mushrooms, and dried cranberries, then wrapped in Parma ham. It's so flavorful and perfect for Thanksgiving.
Love quick & easy recipes? Follow me on Instagram, Facebook, Pinterest & Twitter for all the latest recipe inspiration! Plus join my email list here and receive a free e-book.